Chainsaws are used by homeowners and professionals when felling trees and processing wood. It can be difficult to make sure the chainsaw definition is worth its cost.
There are a wide variety of models on the market, and that makes it difficult to figure out which is best for your own scenario.
The Stihl 044 was first produced in 1989, but it is no longer made. It has been replaced by the Stihl 440 chainsaw.
In this article, we will look at the Stihl 044 chainsaw. This saw is a favorite among professionals and homeowners alike because it is powerful and durable.
Stihl 044 Chainsaw
The STIHL 044 is a powerful gas-powered chainsaw that is ideal for felling trees and cutting firewood.
This chainsaw has a 70.7cc powerful engine that makes it easy for you to cut through thick wood quickly.
It has a user-friendly start system and an automatic oiler that keeps the chain lubricated and functioning well.
The 044 chainsaw also has a high cutting speed and precision, so you can make quick work on even the most challenging projects.
It also features a chain brake that quickly stops the chain if it begins to bind or snag.
This chainsaw is built to last with a robust magnesium housing that can withstand even the most demanding jobs.
The anti-vibration system on this chainsaw keeps your hands and arms from getting tired while you are using it.
It has a durable design that can withstand wear and tear, and it's easy to use so you can get the job done quickly.
Generally speaking, it is reliable, efficient, and easy to work with, so you can rely on it to do the job correctly every time.
Specifications of the Stihl 044 chainsaw
Manufacturer: STIHL
Item model number: 044
Power Source: Gas
Bar length: 24″ or 28″
Displacement: 70.4 cc
Weight: 13lbs
Fuel tank capacitiy: 0.625 l
Oil tank capacity: 0.32 l
Key Features of the Stihl 044 chainsaw
Design
The Stihl 044 is a well-balanced chainsaw that can handle demanding abuse. It has a high power-to-weight ratio, making it perfect for felling trees or cutting through thick branches.
The saw also has a rapid-reaction kickback brake that helps to reduce the risk of injury.
Power
It is a powerful machine that is perfect for felling trees or cutting through thick, stubborn branches.
Its highly efficient motor supplies a great deal of torque, which makes it simple to get the job done rapidly and efficiently.
Performance
It is a high-performing chainsaw that can easily handle large trees and logs. The machine uses a heavy-duty engine that's made quick work of splintering wood. The machine also boasts an intuitive design, minimizing fatigue.
Weight
The STIHL 044 chainsaw is a lightweight chainsaw that weighs only 14 lbs. This makes it easy to handle, making it perfect for homeowners who want a chainsaw that is easy to use.
The chainsaw's engine has the capacity to slice through logs up to twelve inches in diameter.
Bar length
The Stihl 044 chainsaw is a powerful saw intended for larger landscaping or construction projects. With a bar length of 24″-28″ inches, this saw is perfect for felling trees and cutting through large branches.
It features an easy-to-use starting system, as well as a chain brake that helps to protect the user in the event of kickback.
Low vibration
The Stihl 044 chainsaw cuts effectively and smoothly, making it a useful tool for felling trees and cutting firewood.
It has low vibration qualities that make it more comfortable to use.
Easy start
The Easy Start system makes it simple to get your chainsaw starting up. With just a gentle pull on the starter cord, the saw starts quickly and easily.
The system includes a primer bulb and a throttle lock that keep the engine running while you pull the starter cord. This prevents the saw from starting accidentally.
Price
The Stihl 044 chainsaw is not the cheapest option on the market, but it is one of the most reliable. Its durable design allows it to roll over even the most challenging projects.
The 044 features a powerful engine that slices through these thick logs effortlessly.
You may like our comparison on Stihl MS 362 vs Stihl MS 391
Safety Features of Stihl 044 chainsaw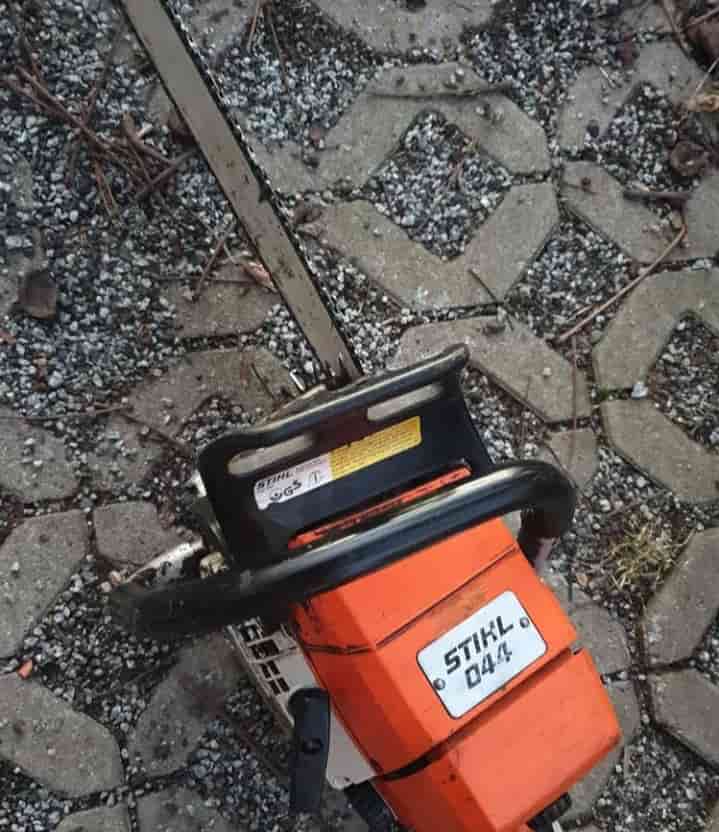 Chain brake
The chain brake is one of the greatest safety features on the saw, and it can help avert injuries. When the chain brake is activated, the brake pads grasp the sides of the chain and prevent it from being moved. This is a vital safety feature, particularly if you are working with a power saw.
Chain catcher
The chain catcher is a small, U-shaped piece of metal that is attached to the saw's bar. The catcher helps to protect your hands and arms from being cut by the chain if it comes off the bar.
The catcher is also designed to keep the chain from hitting you in the face if it breaks.
Low kickback bar
When you're using a chainsaw, the last thing you want is for it to kick back towards you. The low kickback bar on this saw prevents that from happening.
It's compact, so you can effortlessly carry it out with you wherever you go.
Pros
It is well-suited to deal with a lot of tough cuts.

It provides an easy way to use and is an ideal choice for beginners.

The chain is easy to change, and it is lightweight and easy to roll.

It is reasonably priced, making it a crucial option for those who can't afford something more expensive.
Cons
It can be difficult to start.

It is difficult to operate.

It is not very powerful.

It is not very durable.
Problems
The Stihl 044 chainsaw is a popular chainsaw model that has been around for a few years now. It has some very positive qualities, but there are also some drawbacks to it as well. One potential problem is that the chain can wear out quickly, which can lead to problems with the saw.
Additionally, the chain can also get stuck, which can be a problem if you're trying to use it in a dangerous situation. Finally, the saw can also be difficult to start up, which can be frustrating if you're trying to use it in a hurry.
Alternatives
Husqvarna 440
The Stihl 044 chainsaw is a popular choice for professionals and homeowners alike, but it can be expensive. If you are looking for an alternative that has comparable features but is less costly, the Husqvarna 440 chainsaw is a good selection. It's easy to use, reliable, and has a powerful engine. Plus, it is priced significantly lower than the Stihl 044.
Oregon CS1500
Chainsaws come with a variety of specifications, depending on what you'd like to do with them. If you're looking for a quality chainsaw that is built to last, the Stihl 044 chainsaw is a great option.
However, if you're looking for an alternative to the Stihl 044 chainsaw, the Oregon CS1500 is also a good option to consider.
Final Thought
The Stihl 044 chainsaw is an efficient tool that is a worthwhile investment. It comes with a wide array of handy features that make it an excellent choice for anybody looking to purchase a chainsaw.
The chain is user-friendly and can be swapped out easily. Overall, the Stihl 044 chainsaw is a great choice for anyone seeking a top-notch chainsaw. If you are on a budget, the Husqvarna 440 would be a good option for you.
Here's More: