Are you settled on the Stihl 029 chainsaw but still wondering if it is any good? Well, this article aims to help you make up your mind by outlining the unique specifications and features of the Stihl 029.
Moreover, it gives a thorough review on the same, so you can have an in-depth understanding. It's easy to use and ideal for novices and professionals, being one of Stihl's best-selling chainsaws.
It is a powerful saw that was made in 1993. But it is no longer available, and has been replaced by the Stihl 291 chainsaw.
Below is a comprehensive product review on this chainsaw to help anyone in the market for a chainsaw. 
Stihl 029 Chainsaw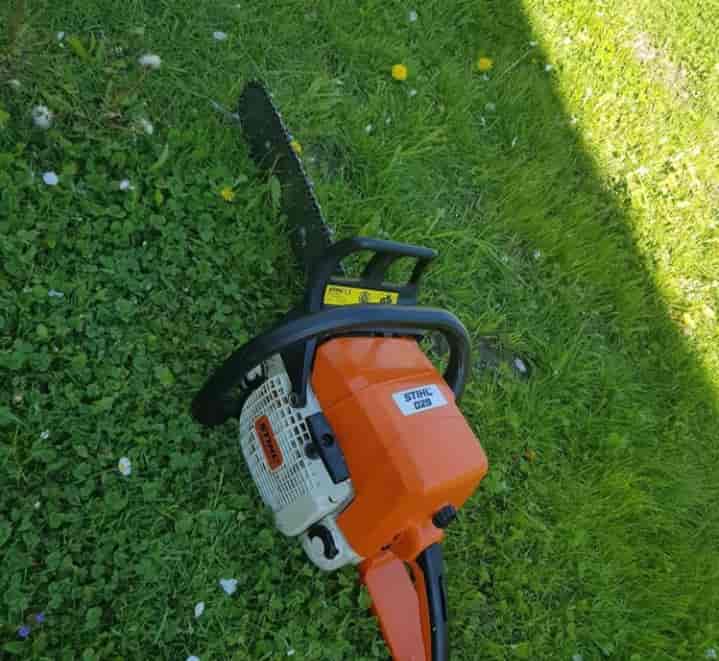 Stihl 029 has been a favorite to many for the longest time. It is among the oldest models of the brand, well-liked for its power and impressive performance. Although no longer in production, the Stihl 029 still has its glory days.
It is a 54.1cc chainsaw and runs with a 20-inch bar. This product is indeed a great addition to your toolset.  In as much as this tool delivers superb functionality, it would be best if you put some of its aspects into consideration before purchase.
Make sure to consider your needs. Different chainsaws are well suited for different applications. The Stihl 029, in particular, is ideal for home and farm use. Its lightweight design gives it a good balance hence reducing operator fatigue. 
Moreover, due to the fact that this model is no longer in production, you will have to get a second-hand. Therefore, you have to ensure that what you buy is the good-as-new unit that you want. Thankfully, its parts are still available for purchase in online stores and authorized Stihl stores near you. 
Pros
It is conveniently lightweight 

Most of its parts are easy to find

It is a powerful chainsaw with great cutting performance 

This chainsaw delivers a reliable functioning capability 

It has a good balance, thus reducing operator fatigue 
Cons
It is no longer in production  

This model does not have modern features 
Stihl 029 Specs
Stihl 029 is a gas-powered chainsaw with a power displacement of 54.1cc. It weighs only 13.0lbs, lightweight enough for easy maneuverability. Moreover, this model can work with 16, 18, and 20-inch bar lengths. It comes with a chain pitch and gauge of 3/8-inch and 0.063-inch, respectively. 
The ideal chain file size to be used is 7/32". Also, it utilizes the Stihl two-stroke engine oil or other comparable brands with a fuel tank capacity of 1.2 pints and an oil tank capacity of 0.68 pints. This model is fitted with a magneto-type breaker-less ignition system for enhanced performance.  
Stihl 029 Features and Benefits 
The Stihl 029 comes with several notable features and benefits that make this product stand out. 
Carburetor
The Stihl 029 is fitted with a carburetor and fuel pump. This feature works to automatically regulate the engine to prevent stalls. Moreover, it extends the life of the engine for a more durable tool. 
Air filter
This model also features an air filter which goes a long way in delivering a reliable functioning capability. This feature ensures that dirt and debris do not reach the engine for a more trouble-free operation, as well as enhancing the durability of the machine. 
Two-stroke engine
Stihl 029 comes with a two-stroke engine design which is handy for efficient performance. This engine gives sufficient and steady power to the machine for superb performance. 
Throttle lock
Whenever you are handling a power tool, extreme caution should be taken. It is important to note that even a momentary loss or the tool landing in the wrong hands may result in injuries and damage to the property.
This model is fitted with a throttle lock to prevent any such occurrence. When this feature is engaged, the chain cannot propel even if the trigger is accidentally pressed. 
Lightweight design
This chainsaw is lightweight in comparison to other models, making it easy for the user to handle. With a weight of only 10.8 lbs, it is perfect for those who have little strength or experience using chainsaws.
Easy start system
This chainsaw has an easy start system that makes starting it up a breeze. It requires less effort, making it ideal for those who are not used to handling chainsaws.
Low vibration
The Chainsaw has a low vibration, meaning that it does not shake as much as other models. It enables users to overcome fatigue more easily, leaving them less fatigue.
Good balance
The chainsaw is well balanced, making it easy to control and preventing the occurrence of accidents.
Efficient performance
The Stihl 029 chainsaw stands out as a result of its impressive engine. It can cut through thick, difficult materials with ease without bogging down.
Compatible parts
The chainsaw has parts that are readily available in the market, making it easier to maintain and repair when necessary. This also prolongs the life of the chainsaw.
Stihl 029 Price and Parts
The price of this model has fluctuated over the years. Today, the Stihl 029 has a price point ranging between $200 to $300. However, due to the second-hand nature of this product, the prices may vary.  Be sure to retrieve a high-quality one from a reliable source.
Stihl 029 parts can be locally bought, or you can also opt to purchase them from online stores. Therefore, you can easily repair and replace some parts of an old Stihl 029. These parts include air filters, bar and chain, chain adjuster tensioner, ignition coil, spark plugs, and oil caps. 
Stihl 029 Alternatives
Whenever you are in the market for chainsaws, it is best to assess several options based on your long-term needs. If the Stihl 029 does not impress you for one reason or another, there are many products in the market that you can go for in place of Stihl 029.
Stihl MS 291
Of course, one of the best alternatives is another product from Stihl, in this case, the MS 291 model. It is also gas-powered, offering professional-level efficiency and performance. This model features an engine capacity of 50.2cc, delivering a power output of 3.0kW.
It weighs only 4.7kgs, conveniently lightweight for easy operation and portability. Moreover, it features an electric ignition and an anti-vibration system that enhances comfort and overall user experience. 
Husqvarna 455 Rancher 
If you are looking for a heavy-duty and high-powered chainsaw for personal use, a good alternative for you will be the Husqvarna 455 rancher. It is conveniently lightweight yet produces sufficient power for the task at hand. Its weight is 12.8 pounds giving a power output of 3.5 horsepower. This model comes with several unique features, including the automatic chain oiler that makes it safer and more effective while delivering a steady oil flow. 
Stihl MS 170 Gas chainsaw
This model is conveniently small and easy to use without compromising power. It delivers sufficient and steady power to handle medium to large limbs, making it ideal for many.
You can use this chainsaw to cut branches and tree trunks to up to 26 inches in diameter, enough for storm cleanup or trimming a tree. It is less than 9 pounds in weight, which makes it a perfect first chainsaw for novices who are not used to difficulty managing triggers.
Furthermore, it has a vibration reduction mechanism that reduces exhaustion after prolonged use.
This model includes helpful highlights such as the option for a convenient startup, an electronic carb, and an often lubricated chain mechanism. However, its smaller size means a smaller gas tank, making it unsuitable for cutting larger amounts of firewood. 
FAQs
What saw replaced the Stihl 029?
The MS291 is the direct replacement of the 029 in the 55cc class.
How do I tell how old my Stihl chainsaw is?
There are several ways in which you can tell the year of production of your Stihl chainsaw. Firstly, you can locate the serial number of the saw and then contact the manufacturer to get information about the saw based on the serial number.
Alternately, if you can still locate the user's manual, you will have read the back and front covers which may indicate the year the model was created or sold.
What is kickback?
The term kickback refers to the anomaly that happens when power is applied to a chainsaw while near the upper portion of the bar's nose approaches a solid object or is pinched.
A reaction is produced by the cutting force of the chainsaw's chain of cylinders causing an opposite rotational force to this motion. According to some circumstances, the bar may fling up and back.
What kind of spark plug does a Stihl 029 use?
The Stihl 029 uses a spark plug thread of M 14 X 1.25, 0.37 inches long. The recommended fuel mixture ratio comprising gasoline and oil is 50:1, which means adding 1 part of oil to 50 parts of gasoline.
Conclusion
It's not difficult to go wrong with any of the Stihl chainsaw models. They are more likely to check all the boxes in your list, and that applies to the Stihl 029 as well.
Purchasing a chainsaw only happens once in a while, so you need to ensure that you get one that best suits your needs.
Hopefully, this review has given you a broader insight into the product and ultimately helped you finalize your decision to purchase it. 
Here's More