Are you looking for a chainsaw that can handle any job? If so, the Shindaiwa 600sx may be the perfect saw for you. This saw is designed for professionals but is also perfect for homeowners who want a powerful chainsaw.
It has a 20-inch bar and chain, making it capable of handling even the most difficult jobs.
In this article, we will give you a comprehensive overview of Shindaiwa 600sx Chainsaw, including its features, how it works, and what people are saying about it. We will also compare it to other saws on the market to help you decide if it is the right tool for your needs.
Shindaiwa 600sx Chainsaw Review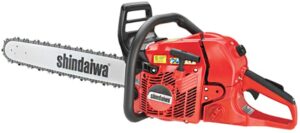 The Shindaiwa 600SX chainsaw is a powerful and durable chainsaw that is perfect for felling trees and cutting firewood. With its 59.8 cc engine, the Shindaiwa 600SX can easily handle large branches and logs.
It comes with a standard bar length of 20 inches, but is also available in 24 and 27-inch lengths, so you can choose the one that is best suited for your needs.
It is a lightweight chainsaw that weighs only 13.7 pounds, making it an easy task to hold for extended periods of time.
Additionally, the Shindaiwa 600SX chainsaw features an automatic chain oiler that keeps the chain lubricated and running smoothly.
The saw has a low vibration design that helps reduce operator fatigue, making it perfect for extended use.
The chain brake system ensures safe operation by automatically stopping the chain if it comes in contact with anything other than the wood.
Specifications
Manufacturer: Shindaiwa
Item model number: 600sx
Type: Gas Chainsaw
Power output: 1.8 HP
Displacement: 59.8 cc
Weight: 13.7 lbs
Bar Lengths: 20, 24, 27 inch
Oil Capacity: 10.1 fl oz
Warranty: 5-Year Consumer & 2-Year Commercial
Key Features of the 600sx Chainsaw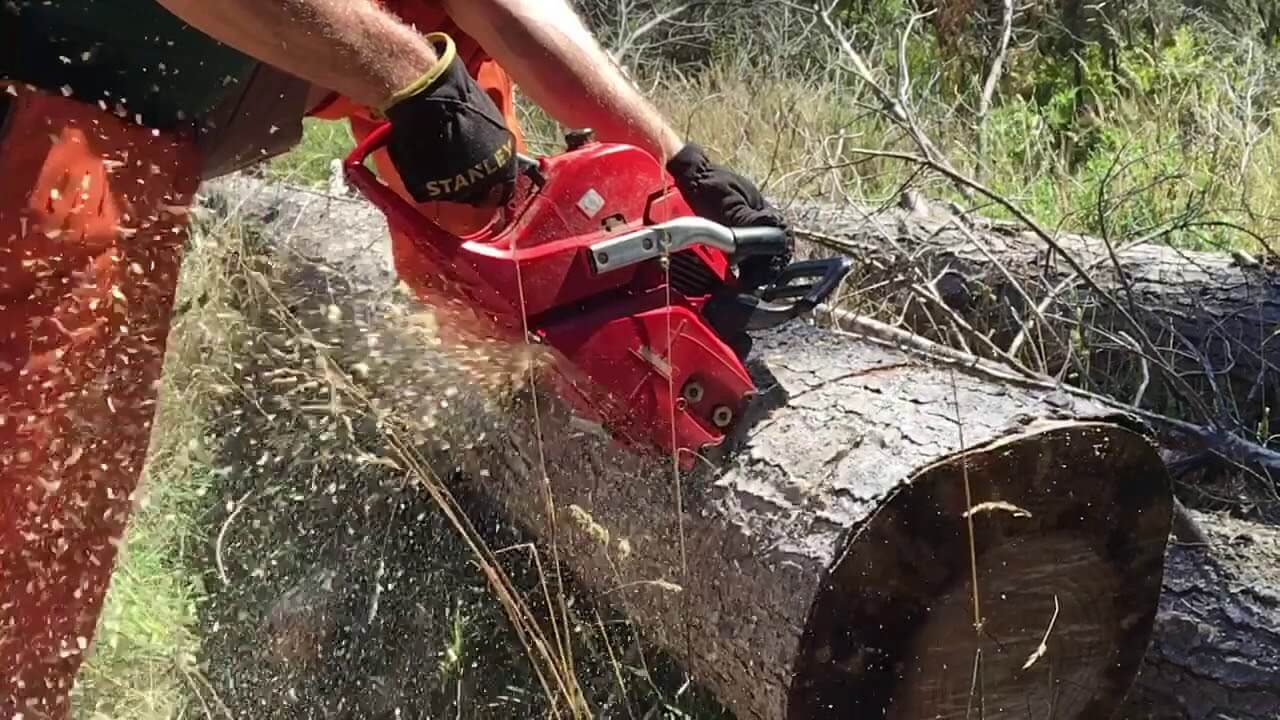 Design
The Shindaiwa 600sx chainsaw is a compact chainsaw that is easy to operate and is powered by a strong engine. It is ideal for home use and is ideal for household trimming tasks.
The saw has a 20″ bar and chain, and can easily cut logs up to 14″ in area. The 600sx also comes with a built-in automatic oiler to ensure the chain stays well lubricated for the duration of the event.
Durability
The chainsaw is designed for durability with robust construction. It is made to withstand tough conditions and last for a long time. The chainsaw has a powerful engine and is built for heavy-duty use.
It is designed to handle a wide range of tasks, from felling trees to cutting firewood. The chainsaw is also easy to operate and has a comfortable grip.
Ease of Use
The Shindaiwa 600SX is a gas-powered chainsaw designed for ease of use. It starts quickly and easily, with minimal effort, and the chain can be adjusted with just a few turns of the wrench.
The saw is well-balanced and easy to control, making it perfect for both novice and experienced users.
Safety Features
The Shindaiwa 600sx has several safety features that protect the user while they are using the saw. One of these features is the chain brake. The chain brake is activated when the saw kicks back, which stops the chain from moving and keeps the user safe.
The saw also has a wraparound grip that helps keep the user's hand safe.
Weight
This light chainsaw from Shindaiwa is especially transportable and lightweight, weighing only 13.7 pounds. It's suitable for light users who need something for a small occasional cut, with a blade diameter of 20 inches and a 4.55 horsepower engine, which requires a lubrication oil pump to maintain continuous use.
Engine
It is a high-quality tool that can perform a wide variety of cutting tasks. It has a 59.8cc two-stroke engine that provides plenty of power, and the chain brake ensures safe operation.
The saw also features an easy-start system for quick and easy starts, and the anti-vibration system helps to minimize operator fatigue.
Value
A 600sx chainsaw is a high-quality tool that represents good value for money. It is well-built and has features that are typically found on more expensive saws. It is also easy to start and operate, making it a good choice for novice and experienced users alike.
Pros
It's instinctive and easy to use.

It comes with a very long cutting outcome.

It's light, durable, and easy to transport.

It has a durable build.

The chainsaw is affordable.
Cons
The chain can be put under a lot of stress.

It is not a good choice for larger trees.

It is not the best choice for cutting through thicker branches.
Problems
The Shindaiwa 600Sx is an excellent chainsaw for homeowners. It is compact and less difficult to operate. Nonetheless, there have been some concerns about the quality.
Some users have experienced issues with the chain coming off, the chain cutting brake not functioning properly, and the saw burning hot.
Alternatives
Husqvarna 550XP
The Shindaiwa 600sx is a great saw, but if you want a powerful saw, the Husqvarna 550XP is the best alternative. The 550XP has a very robust engine that makes it easy to cut through even the thickest materials. It is very durable, so it will stand up to even the toughest projects.
GreenWorks 20312
The Shindaiwa 600sx is a high-quality saw that can be expensive for some people. If you're looking for an affordable saw, the GreenWorks 20312 is the best alternative. It shares many features with the Shindaiwa 600sx and is much cheaper.
Final Thought
The shindaiwa 600sx is a great saw, but there are better options available. If you're looking for a powerful and reliable saw, the Husqvarna 550XP might be a better option. Or, if you're looking for an affordable saw, the GreenWorks 20312 might be a better choice.
You might read other our reviews on Husqvarna 235 and Stihl 039 Chainsaw
Thanks for reading!