When it comes to chainsaws, there are a lot of choices available to consumers. So it's important to choose the one that will fit your needs the best.
In this article, we compare the Stihl MS170 vs Husqvarna 120 chainsaw.
Both chainsaws offer great cutting performance and are well-made, reliable tools.
However, there are a few key differences between the two that might matter to certain buyers.
Let's take a closer look at each model to see which one is right for you.
STIHL MS170 vs Husqvarna 120 Comparison Chart
Different people have different needs when it comes to chainsaws.
Some people like the power and versatility of a Husqvarna chainsaw, while others prefer the simplicity and efficiency of a Stihl chainsaw.
The comparison chart below will help you highlight what's common and what's not between them. 
STIHL MS170 Chainsaw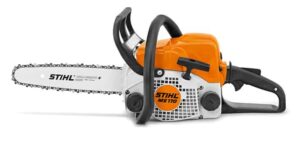 Functionality meets efficiency with the Stihl MS170, giving you the best of both worlds. This professional-quality tool is an excellent addition to your home. You can count on it to deliver precision, speed, and power upon demand. 
It is a relatively small model designed to provide superb performance in cutting firewood and removing tree branches, among other tasks needing a chainsaw. Moreover, this high-quality saw starts and cuts quickly and smoothly for the best user experience.  
Specifications 
The Stihl MS170 has a high power to weight ratio making it advantageous in many aspects. Its small size makes it suitable for occasional light-duty tasks such as cleanup jobs, clearing fallen branches, trimming, and felling small trees. This chainsaw utilizes gas and features an aluminum and plastic housing that contributes to its lightweight convenience. 
Hence, it is only at 11 pounds with increased maneuverability and reduced instances of kickback. The bars are swappable depending on the nature of the task at hand. You can change from the 16-inch bar to others up to 12-inches. You can count on this saw to produce a clean and even cut at all times. 
Speed 
Various tests carried out on the chainsaw revealed impressive results when it came to the speed of this model. Its speed averaged at an inch per second when tested on lumber. This is impressive for those who are looking for quality results fast. 
STIHL MS170 Features:
Powerful engine 
The Stihl MS170 comes fitted with a two-stroke engine. This powerful engine and its high power-to-weight ratio make it outstanding and unparalleled in performance. Moreover, the engine boosts this chainsaw with its unique style that allows two complete revolutions in one piston stroke. In simpler terms, the engine requires less fuel for the power produced. 
Lightweight plastic housing 
The lightweight nature and the small size of this chainsaw contribute to its efficiency. However, proper care should be maintained when handling as the shell is susceptible to breaking or cracking. 
IntelliCarb compensating carburetor 
Installed within the saw is an IntelliCarb Compensating carburetor, which ensures that the air to fuel ratio remains balanced. Moreover, it is assigned the task of adjustment in the event of choking or clogging of the air filter. It does so while maintaining a constant rpm to ensure the chainsaw runs optimally. 
This system prevents debris and dust from reaching the engine by pulling air from the cleaner side of the filter. This action also controls the diaphragm and fuel flow when the filter is dirty, and there is less air. The fuel flow is adjusted to compensate for the decrease in air. 
Antivibration system 
Stihl came up with a system that works to minimize the vibration levels of their equipment. This anti-vibration system is handy in reducing operator fatigue as well as providing users with a comfortable working experience. 
Ematic Lubrication system 
Stihl MS170 features an Ematic guide bar designed for use with an OILOMATIC saw chain, which provides sufficient lubrication and ensures less oil consumption compared to other conventional methods. 
This system is a success thanks to its design with the two ramps strategically positioned on the rail to contain oil flow hence directing lubrication to the sliding faces of the chain links, bar, driver holes, ad rivets. This, in turn, increases efficiency and reduces oil consumption to an astounding 50%. 
Applications 
Chainsaws should be able to perform a wide range of applications in different environments. That is the Stihl MS 170 to a T. With its smooth operation, removing tree branches and cutting firewood has never been easier.
It is also a great addition to any home and makes light work of cutting small trees, trimming, felling small trees, and occasional cleanups. It is a good choice for tasks that call for a chainsaw. 
Pros
It is conveniently lightweight for increased maneuverability and ease of use. 
It is well suited for those looking for power and utility in a professional-grade chainsaw. 
It is fuel-efficient, quiet, and easy to handle. 
Cons
Its lack of shock absorbers also made it less popular than other models.
The light housing is vulnerable to breakage or cracking if not properly handled.
Husqvarna 120 Chainsaw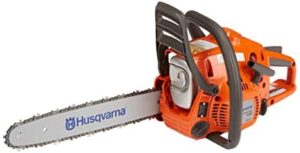 The Husqvarna is an excellent choice for any serious power tool user. This powerful chainsaw has various design features that are sought after by any professional.
It is ideal for anyone looking for value and utility in the same model. Its power source is gas with a power output of 1.88hp. 
However, it is one of the Husqvarna models that are not extra-power and hence not suitable for full-time use. It works best around the home as it is not recommended for loggers and arborists. There are fewer instances of kickback, thus increased safety. 
Specifications
The Husqvarna 120 chainsaw depends on gas as its power source. With a power output of 1.88hp, this chainsaw can be used for a wide range of applications, such as jobs in farms, vineyards, and orchards. On top of that, this chainsaw is conveniently lightweight, weighing only 10.7lbs. 
It is therefore user-friendly with enhanced maneuverability. Moreover, this chain saw features a 16-inch bar and an H37 chain that is included in the purchase. The chain has a gauge of 0.050 inches and a 3/8-inch pitch. 
Speed 
Various tests conducted using this chain saw concluded that it has a two-chain speed, which is satisfactory for home use. The maximum power speed is 9000 rpm. 
Also Read – Echo CS 400 vs Echo CS 490 Chainsaw
Husqvarna 120 Features:
Push-button switches 
There is a push-button start as well as push-button power that allows users to easily adjust up or down the power depending on the nature of the tasks. 
Air purge 
This impressive feature enables easy starting by removing air from the fuel system and carburetor. 
Inertia activated chain brake 
The inertia-activated chain brake reduces instances of kickback making it safe with a reduced risk of injury. 
Air injection
This model is designed with a centrifugal air cleaning system that is handy in reducing wear as well as giving it a longer operating time before the next filter cleaning. Larger debris and dust particles are removed before they can reach the air filter. The engine life is improved in the process.
X-Torq
This chainsaw incorporates the X-Torq engine technology, which reduces emissions and fuel consumption. Therefore, it complies with environmental regulations. You get to save money on the gas pump in the long run, as well as enjoy a comfortable working environment. 
Combined choke/stop control
This feature makes starting easier and also alleviates the risk of engine flooding. 
LowVib 
Husqvarna also features an anti-vibration system that absorbs vibration to make the working experience more comfortable. It also comes with an auto oil pump, 16-inch bar, and H37 chain. Moreover, there is a see-through window on the chain brake, 
Accessories 
For enhanced versatility, there are several accessories that can be used alongside the Husqvarna 120 chainsaw. These aid in faster completion of the projects as well as make work easier. They include tool holders, a multi-purpose holster, hand-lifting timber tong, lifting drag hook, an an X-CUT S93G semi-chisel among others. 
Applications 
This chainsaw is versatile given its wide range of uses with its sufficient cutting performance. These include tasks on a building site, pruning small trees, on the tractor, orchards, vineyards, in the car for emergencies, and any light trimming, cutting firewood, and limbing in the home. 
Pros
Affordable and accessible 
Quick and easy to start  
It is conveniently very quiet  
Easy to wield and maneuver 
This chainsaw facilitates easy tool-less chain tensioning.
Cons
This chainsaw is comparatively a low-powered saw for light tasks
It is not ideal for full-time use
Final Thought
The Stihl MS170 chainsaw is a great choice for those who are looking for a powerful chainsaw that won't break the bank.
The Husqvarna 120, on the other hand, is ideal for those who need a chainsaw that is durable and easy to use.
Both chainsaws offer great value and can handle most tasks you'll face as a homeowner or landscaper. So which one is right for you?
Here's More: