When it comes to chainsaws, Husqvarna has a couple of great options for consumers. The 120 and 130 models are both well-made chainsaws, but there are some key differences between them that may make one option a better choice for your needs.
In this article, we'll take a closer look at the Husqvarna 120 vs 130 chainsaws to help you decide which one is right for you.
Husqvarna 120 vs 130: Which Chainsaw is better? 
Husqvarna is a renowned brand with a wide range of models on its roster. These include the 120 and 130 models. Many buyers can face a dilemma when these two are placed before them. That is why we are here.
This article outlines their specifications and features in detail, as well as their pros and cons to guide you through the buying process.
To start off is a comparison chart to give an overview of what to expect with each model. It gives more information than just specifications and features, so you can easily tell the main differences. 
Comparison Chart
Just like all other models, Husqvarna 120 and 130 share some similarities and also have differences. They are both gas-powered with steady power output. Husqvarna 120 works with a 14-inch bar and the H38 3/8" chain. On the other hand, Husqvarna 130 accommodates a 16-inch bar and the H37 chain. 
Their power output slightly varies, with the 130 models being more powerful. When it comes to using, these two can be used interchangeably but still, each of them has its own specified area of use. there are also some features that are specific to each model as discussed below. 
Husqvarna 120 Chainsaw
It is no doubt that the Husqvarna 120 is an excellent choice for any serious workman. It is a powerful tool that comes with design features tailored for professionals and novices alike. This model combines utility and value to bring you the best of both worlds. It is gas-powered with an output of 1.88hp. 
Furthermore, it is well suited for use around the house. You can count on its safety thanks to the reduced likelihood of kickbacks. However, it is among the Husqvarna models that are not extra-power. This means that it is neither recommended for full-time use nor is it ideal for arborists and loggers. 
Husqvarna 120 Specs
The power source of this model is gas, producing an output of 1.88hp. It is powerful enough to be used in various applications, including tasks in the orchards, vineyards, and farms. Besides that, at only 10.7lbs, this machine is conveniently lightweight for enhanced maneuverability. 
It is therefore user-friendly and offers an improved user experience. On top of that, it supports a 16-inch bar working alongside an H37 chain; both are included in the package. This chain features a gauge of 0.050 inches and a pitch of 3/8-inch. 
Various tests have been carried out on this machine on speed, revealing positive results. In conclusion, this machine has a two-chain speed, ideal for home use. on the other hand, the maximum power speed is 9000 rpm. 
You also read our reviews on Husqvarna T540xp Chainsaw and Husqvarna 235 Chainsaw.
Husqvarna 120 Features 
The 120 model is feature-packed to suit your needs. 
Air purge: This feature comes in handy as it makes starting the machine a breeze by removing the air from the fuel system and carburetor. This way, you have an easier time operating the machine.
Push-button switches: This chainsaw is fitted with push-button power and push-button start switches. These allow the operator to easily adjust the power depending on the task at hand. 
Air injection: This particular model comes with a centrifugal air cleaning system which goes a long way in reducing wear. Moreover, it is handy in giving it a longer operating time before you are required to clean the filter. Dust particles, as well as larger debris, are removed before they reach the air filter, thus improving the engine life. 
Inertia activated chain brake: An inertia-activated chain brake is what every chainsaw needs to reduce instances of kickback. And with the Husqvarna 120, safety is guaranteed thanks to the incorporation of the inertia-activated chain brake. There is, therefore, a reduced risk of injury. 
X-torq: The machine employs an X-Torq engine technology that works to reduce fuel consumption and emissions. The machine is therefore environment-friendly. Moreover, the feature allows you to save money on the gas pump and enjoy a comfortable emission-free working condition. 
LowVib: Husqvarna 120 comes with an anti-vibration system that absorbs the vibration, thus offering a quiet operation. You can count on this machine to enhance your working experience. 
Auto oil pump: The auto oil pump feature comes in handy in delivering a steady supply of bar and chain oil for more effective and safer use. 
Moreover, it features a 16-inch bar and H37 chain. There is also a see-through window on the chain brake and a combined choke/stop control that makes starting easier as well as reduces the risk of engine flooding. 
Accessories
Husqvarna 120 can also be accessorized to increase its versatility. These accessories make work easier as well as help you complete tasks faster. They include a lifting drag hook, hand-lifting timber tong, multi-purpose holster, tool holders, and an X-CUTS93G semi-chisel. 
Applications 
This chainsaw also has the versatility to boot with all its impressive features. It can be used for a wide range of applications given its incredible cutting performance. 
The tasks include jobs on a building site, in the car for emergencies, on the tractor, vineyards, orchards, pruning small trees, cutting firewood, light trimming, and limbing around the home. 
Pros
Quick and easy to start 
Affordable and easily accessible 
It facilitates easy tool-less chain tensioning 
It conveniently offers a quiet operation
Easy to wield and maneuver
Cons
It is not ideal for full-time use. 
This machine is comparatively low-powered limited to light tasks.
Husqvarna 130 Chainsaw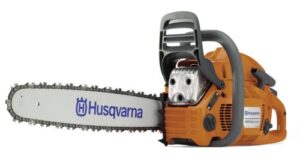 Husqvarna 130 is the model to go for if you are looking for a machine to use around the garden and home for a long time. It is a worthy investment and equal to the task.
This chainsaw comes feature-packed to the Husqvarna standards and is reliable. It is not only easy to start but also easy to handle, chopping firewood with great ease and helping with other pruning tasks.
This model is dubbed small but mighty, and true to it; it is conveniently lightweight yet powerful enough to complete your tasks. It has an ergonomic design that allows the homeowner to handle this powerful chainsaw with ease. 
Husqvarna 130 Specs 
Husqvarna 130 is also a gas-powered model with an output of 2.0hp. It is designed for use with bars of 14 to 16 inches and an H37 chain of pitch 3/8-inches. It weighs 4.7 kgs making it conveniently lightweight for the operator to move it around wherever needed. 
This 38cc gas chainsaw comes with a guide bar and chain. The engine has a 2-cycle speed with a maximum power speed of 900 rpm. With this machine, you get to enjoy a quiet operation and an overall enhanced working environment. 
Husqvarna 130 Features 
Combined choke/stop control: This model comes with an intuitive combined choke/stop control which plays a major role in making starting easier and reducing the possibility of engine flooding. 
Inertia chain brake: Moreover, this model is fitted with an effective inertia-activated chain brake system that enhances its safety by reducing the likelihood of kickback. 
Air injection: This model features a centrifugal air cleaning system that works to reduce wear, giving the machine longer years of rigorous use. On top of that, this feature is also handy in increasing the operating time between filter cleanings. It works to keep debris and dust particles from reaching the air filter, improving the engine life in the process. 
X-Torq: Husqvarna 130 proudly embraces the latest technology in incorporating the X-Torq engine, which goes a long way in reducing exhaust emission levels and fuel consumption. This allows you to save money in the long run as well as enjoy a clean working environment. The machine complies with the most stringent environmental regulations. 
Automatic chain oiler: Proper lubrication of the bar and chain is vital. This feature is handy in delivering a steady supply of bar and chain oil for more effective and safer use. 
Simple chain tensioning system: The Husqvarna 130 model is easy to use thanks to features such as the simple chain tensioning system. It allows the operator to easily and quickly make chain adjustments while working. 
Other features include a fuel pump that is designed to make starting easier and an anti-vibration system that significantly reduces vibration levels for a more comfortable chainsaw operation. 
Accessories
There are many accessories that can be used alongside the Husqvarna 130. These include technical gloves with saw protection, classic forest helmet, protective glasses, classic saw protection boots, hearing protection, combi fuel cans, chainsaw chaps, and multi-purpose grease. These not only enhance your safety but also make work easier. 
Applications 
Husqvarna 130 is also very versatile. It is well suited for the homeowner looking for a lightweight and efficient machine for use in the yard. You can also use it for light-duty tasks such as chopping firewood, pruning, and taking down small odd trees. 
Pros
Quick and easy to start 
This model is environment-friendly 
It is conveniently lightweight yet powerful 
It comes with safety features to reduce the risk of an injury.
Cons
Bar and chain oil are purchased separately.
Final Thought
In conclusion, both the Husqvarna 120 and 130 chainsaws are great options for those looking for a quality saw at a moderate price. The 120 is perfect for light-duty use, while the 130 can handle tougher jobs.
So, which one should you buy? It really depends on what you need it for. If you're not sure, consult with a professional to help you choose the right one.
Here's More: