When it comes to chainsaws, the question of which Echo model is right for you has never been more important.
The two models under consideration in this article are the Echo CS 400 and the Echo CS 490.
The Echo CS 490 Chainsaw is a powerful chainsaw that has a lot of features that make it great for cutting wood.
The Echo CS 400 is a budget chainsaw that doesn't have as many features, but it's still a good chainsaw. We'll compare the features of each chainsaw and decide which one is better.
Comparison Chart
Echo cs 400 vs Echo cs 490 models are usually the top picks by many customers.
Both are rated high in quality and durability and are generally compared with each other due to similarities in their features and price points.
So, here we have made a thorough comparison from different viewpoints to make it easier for you to choose. Which one would you prefer better?
| | | |
| --- | --- | --- |
| | | |
| | | |
| | | |
| | | |
| | | |
| | | |
| | | |
| | | |
| | | |
| | | |
| | Butterfly valve diaphragm with pump purge | Butterfly valve diaphragm without pump purge |
| | | |
Echo CS 400 Chainsaw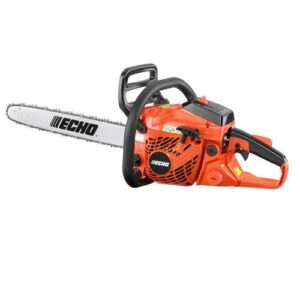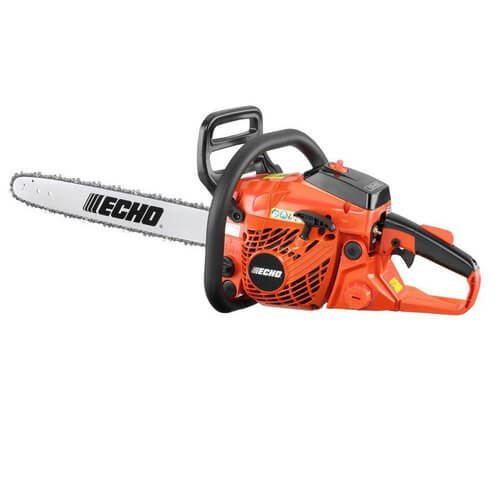 The ECHO CS 400, offers a durable design that will last you for years. As many customers consider this to be a highly valuable investment. Ideally made for tree care operators, farmers, and ranchers. It comes with a comfortable fit in hand so it doesn't ache your muscles during the long duration of use.
The performance matches its look, as it comes with a 40.2cc, two-stroke engine along with a heavy-duty air filter. Ensuring a powerful application without damaging the saw, as well as a better airflow.
Another important factor to keep in mind while buying a chainsaw is its oiling capabilities. As we know to operate a chainsaw smoothly in long-duration hours lubrication is vital.
Well in CS 400 you don't have to worry about anything, as it comes with automatic oiling capabilities installed in its unit. It will ensure that you can complete as much work as possible without damaging the saw hence, giving it long durability.
The accessibility is also superior to other available chainsaws. As it has an i-30 starting system which will give you a 30 percent reduction in starting effort. Along with its computerized ignition, you will find it easier to operate the engine with lesser vibration and better at restarting
Pros
Lightweight chainsaw

Well implemented vibration reducing system

User-friendly due to its easy controls

Powerful engine with easier restarting function.
Cons
It is comparatively an older model.

There is no noise reduction, you might find it extremely loud to work with.
ECHO CS 490 Chainsaw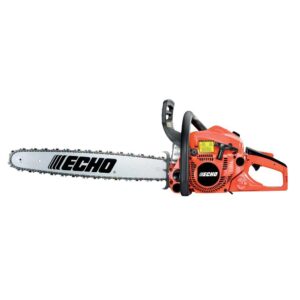 ECHO CS 490, is another impressive model bought by ECHO. It offers an extremely powerful cutting capacity. It comes with 20 inches bar length, its other variants of 16 and 18 inches are also available that you can find in the market. Gives you an overall excellent and versatile cutting capacity.
One of the most crucial factors when choosing a chainsaw is its engine. This ECHO CS 490 chainsaw offers a high-quality 50.2cc professional graded engine installed in its unit. Like Echo CS 400, this chainsaw also has a two-stroke engine. Hence, a complete powerhouse of a chainsaw. 
Another bonus point about this chainsaw is that its fuel consumption is much lower than any other chainsaw available in the market.  So it will provide you with an efficient amount of work for long hours, without causing too much expenditure on fuel.
Like Echo CS 400, this chainsaw also has easy access and control system. Making you more comfortable in operating it and holding it for long hours. Has a different handles configuration embedded in it? You can choose which one works the best for you. 
Pros
User friendly 

Highly Accessible

Safe to use 

Powerful engine

Great chain speed
Cons
High vibration and noise

No built-in effect
Similarities between Echo CS 400 Chainsaw and Echo CS 490 chainsaw.
Automatic oiling system
Both CS 400 and CS 490, come with an automatic oiler installed in their unit. The primary aim of the automatic oiling system is to provide the best lubrication to the chain every time it contacts the bar.
This makes the chainsaw more durable and helps provide more efficient using it. An automatic oiling system also helps in reducing oil consumption. Which will save you more money, and you can use the chainsaw for years to come.
Ignition system
One of the best advantages offered by both CS 400 and CS 490 is that these two come with a digital ignition system. The digital electronic ignition system comes in helpful when you need to control the precision of the ignition timing and operating speeds.
Their computerized ignition will help you to manually change the power speed. It will help you ensure an easy start with optimum delivery and fuel efficiency. By automatically limiting the maximum engine speed to prevent any damage. Both chainsaws will cause you less handwork to do and will perform a more streamlined job. 
Designs
With a sturdy look and attractive design, both chainsaws come with orange color machinery. Overall their design is similar except for the different sizes and lengths available in the bar. Both offer handguard protection, to have a comfortable grip during the long duration of work. 
Many customers will find these chainsaws to have a solid look and feel. Fits well-balanced in the hand and gives you easy access around the plastic handles for better chainsaw control.
Fuel and oil capacity 
Both CS 400 and CS 490 have a similar 9.5 Oz capacity for oil. While having a little difference in the fuel capacity. CS 400 has a 13.9 Oz fuel capacity while CS 490 has a slightly more capacity of 16.6 Oz. Which will give CS 480 a little nudge over CS 400 inefficiency. 
Weight
Both of them are lightweight models with efficient work. Almost weighing the same, ECHO CS 400 chainsaw weighs around 10.1 pounds while ECHO CS 490 weighs 10.6 pounds. Neither of them will feel bulky or uncomfortable for you to handle. 
Warranty
Another similarity between these two chainsaws is the warranty offered on the model. A consumer warranty will last you 5 years of usage, while the commercial warranty is offered for 3 years. Both chainsaws come with a 90 days rental warranty as well.
Dissimilarities between Echo CS 400 Chainsaw and Echo CS 490 chainsaw.
Bar length 
You will find Echo CS 400 available in two-bar lengths, 16 and 18 inches. While Echo CS 490 comes in three variants of 16 inches, 18 inches, and a longer 20 inches bar length.
While you may not find a difference between the first two variants of length, the third variant of CS 480 makes it a superior choice. As it is more adaptable to high-demanding jobs like cutting thicker woods with taking the least amount of damage. 
Engine power
This is where you will see the most difference between the two models. The ECHO CS 400 has an engine power of 40.2 cc while the power provided in ECHO CS 490 is 50.2 cc. Having great engine power will make a significant difference when you need to get the job done more accurately.
As both chainsaws are made for tough cutting jobs and both offer 2-stroke engines. However, here ECHO CS 490 wins because of the higher power engine embedded in its unit.
Starting system
ECHO CS 400 comes with an i-30 starting system, these chainsaws provide easy accessibility with a good restarting system.  As we know while operating a chainsaw restarting will be the hardest part of the job. Reducing 30 percent of the starting trouble. While ECHO CS 490 comes with a spring-assisted starting system causing it to fall behind the CS 400 model in providing ease for restarting. 
Price
Price point can be the trickiest part of any chainsaw purchase, with almost all the features provided being similar their price point makes a huge divergence. ECHO CS 400 is the cheaper model with an MRP of $299.99, while ECHO CS 490 costs significantly more with an MRP of $349.99.
Final Verdict
Both of these chainsaws will provide sufficient power and performance. If you need a versatile chainsaw you can easily choose one of the two. ECHO has given the two one of the best-built quality with a sturdy design.
You will find each of them living up to your needs for quality and durable chainsaws for years to come. 
With few differences between the two like the engine power and fuel capacity, where Echo CS 490 wins the cake. It is important to remember it also cost 50 dollars more than the older version of ECHO CS 400, which practically delivers the same performance.
So if power efficiency is your top priority you can easily buy the ECHO CS 490. However, if you are on a budget and want almost the same features with high quality choose the ECHO CS 400 model.
Here's More: