Many a time, when one is in the market for a chainsaw, what they have in mind is an optimal combination of weight, power, and torque. Many models offer this, making it difficult to make a decision.
Among these are the Echo CS 590 vs Stihl MS362. No need to worry, as we delve in-depth to review these two models from specifications to pros and cons so you can make your pick.
This comparative review gives a broader insight into the functionality of the models as well as areas they are well suited for. Read on. 
Echo CS 590 vs STIHL MS 362 Comparison Table
Before getting to the main part of this post, you might want to know how these two saws compare. The best way to show this is by placing them side by side as we did in the comparison chart below.
That way you can know what they have in common and their clear differences as you get to the main part of this comparison.
Echo CS-590 Chainsaw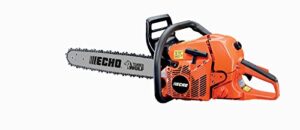 Echo CS-590 is a best-selling chainsaw of the Echo brand. It is the chainsaw to turn to for most of your timber and firewood needs.
The high rating and many positive reviews are not the end of it.
For one, it is a good value for your money given the reasonable price of $500 at its power output of 59.8cc.  
Pros
It has shock absorbers enhancing functionality. 
Easy and quick maintenance 
It is powerful enough for the toughest of jobs. 
The reliable vibration damping system 
It is backed by a 5-year warranty
Cons
Its scabbard feature is not of reliable quality.
Starting the chainsaw is a hassle.
Specifications 
With the Echo CS-590, you are assured of ease of use and convenience. The features are simple and easy to use without impractical specifications. For instance, oil and fuel caps are attached with plastic. Therefore, you do not have to deal with a nylon rope. 
The plastic is also more durable compared to the chainsaws that come with a nylon rope. Moreover, you get to enjoy easy and quick access to the filter.
Unlike other models, it is unlikely to lose a nut, and you are spared from the multiple steps typically required to access the filter. 
On top of that, the fuel tank is transparent, which contributes to ease of use. You can quickly tell the amount of fuel left and know when to top it off. This feature is particularly handy as it avoids instances where you run out of fuel during a project. The bar length options are 18 or 20 inches. 
Performance
This chainsaw is a power horse, thanks to its professional-grade engine. It has a top speed of up to 13,000 rpm making it suitable for larger tasks. It weighs 13.2 pounds which can be described as comfortable- not too heavy and not too light. This allows you to do all the tasks at hand without much fatigue. 
Features
Vibration damping system 
Working with a vibrating chainsaw can be frustrating. Thankfully, the Echo CS-590 comes equipped with a vibration-damping system. This system makes the work experience more comfortable and reduces operator fatigue. 
Two-stroke engine 
This chainsaw comes with a powerful two-stroke engine and requires a mix of oil and gas as its power source.
Professional-grade chain 
Moreover, it comes equipped with a professional-grade chain, 20-inches with a 0.050-inch gauge and 3/8-inch pitch. This chain and the square corner chisel cutters are coated to prevent corrosion.
Additional features include an air shutter, adjustable oiler, two-piece mesh filter, digital ignition, and spark arrestor muffler. All these contribute to making the equipment user-friendly and make it time-efficient. 
Safety 
When it comes to handling a chainsaw, your safety should be a top priority. The Echo CS-590 was built with that in mind. It is fitted with standard features to ensure the utmost safety to its users, considering the potential danger that comes with the operation of a chainsaw.
The built-in features include the dual-post chain break, a bar safety tip, and the chain catcher. 
The chain brake is inertia-activated and works to stop the chain in the event of kickback. It employs inertia from the saw blade movement or flips forward the handguard.
The removable safety tip plays the role of a shield for the place liable to cause kickback, while the chain catcher offers protection against the broken chain. 
Maintenance 
The Echo CS-590 does not require any sort of special maintenance. It just follows the typical maintenance schedules as indicated in the manual.
It is essential to keep the equipment clean after use to prevent the buildup of dust. Specific areas of interest you need to pay keen attention to are the air filter and chain oiler. 
Moreover, ensure that the chain maintains the right tension and sharpness. Maintenance is quicker and less complicated with features such as tool-less access to the air filter.
Also, thanks to the simplicity of the design, the parts that break can easily be replaced (and it takes a while before that happens).
Applications 
This heavy-duty equipment is well suited for heavy-duty work. You can use it to make cuts through beams smoothly, quickly, and with great ease. It delivers sufficient torque, and there is no kickback at all.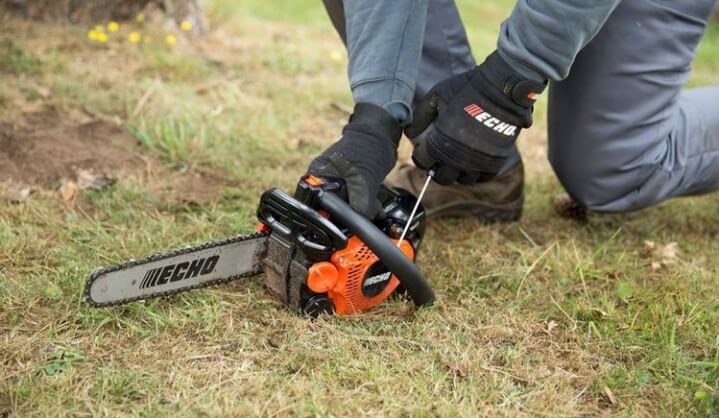 Stihl MS362 Chainsaw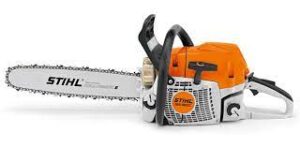 The Stihl MS362 offers its users a powerful combination of functionality, efficiency, and strength, which is all they are looking for.
You can count on it for a variety of applications ranging from de-limbing, buckling, and tree-felling to other thinning operations. This chainsaw offers the advantage of large fuel capacity and reduced weight, making it preferable to other models. 
Moreover, it was designed with fuel efficiency and great power in mind so you can enjoy the best of both worlds. The barrage of positive reviews describes this equipment as a dependable tool for its designated job site.
It utilizes gas as its power source, hence longer runtimes. This chainsaw is ideal for forestry or professional tree personnel and firewood cutters with impressive performance.
Pros
It is a reliable tool for its recommended use.  
It is fuel-efficient, time-efficient, and easy to handle.
This saw is versatile in its applications.
This chainsaw is fitted with features that enhance functionality and ease of use.
Cons
It is relatively heavy
It does not come with shock absorbers 
Specifications 
Stihl MS 362 utilizes gas with a fuel capacity of 20.3oz. The powerhead weight is conveniently 12.3lbs for ease of use and maneuverability. This chainsaw comes with a 20-inch guide bar. 
Features
Anti-vibration system 
This handheld outdoor equipment features a specially designed system that minimizes vibration levels. This exemplary anti-vibration not only alleviates operator fatigue but also enhances the work experience. 
Advanced engine technology 
The Stihl MS 362 utilizes technology in its making with the incorporation of advanced engine technology. This system works to reduce exhaust, making it one of the most environment-friendly models in the market. 
Read Also – Stihl MS 271 vs Husqvarna 450
Decompression valve 
The decompression valve feature, also a deco valve, is designed to enable easier starting by venting compression in the cylinder.
This valve temporarily reduces the compression in the combustion chamber when cranking, thus reducing the effort required to pull the starter rope. Moreover, the valve is manually opened but will automatically close when the engine fires up.
A pre-separation air filtration system 
The Stihl MS 362 was not left behind when it comes to technology. Its model has incorporated a time-saving technology – the pre-separation air filtration system- that contributes to the overall efficiency of its engine's filter system. This, in turn, doubles the time between air filter cleanings. 
Its operation involves air being drawn to the engine, where it is separated by centrifugal force. The heavier dirt particles are ejected before routing to the air filter during this process. The pre-separation technique ensures less dirt is captured in the air filter, hence reducing maintenance and cleaning times. 
Side-access chain tensioner 
Stihl MS 362 has a unique design featuring a side-access chain tensioner which makes it easier for the user to make any adjustments to the saw chain and bar wrench compared to the conventional location of a guide bar adjustment screw. It is thus user-friendly and time-efficient. 
Lifetime air filter
This chainsaw comes with a lifetime air filter! This impressive feature gives you the luxury of not having to replace it at any time of its use. All you are required to do is to maintain it clean after use.
Toolless fuel oil caps with retainers 
This additional feature makes it easy for the user to operate the equipment. It is as simple as lifting the lever and twisting the caps to tighten or remove them. Tools are not needed to loosen or tighten. 
Optional accessories 
Wrap handle 
The wrap handle makes the saw more versatile as you can use it in many positions during limbing or felling with users' hands in proper positions. 
Applications 
Stihl MS 362 delivers enough torque and power for all your thinning operations, bucking, de-limbing, and tree felling. It is ideal for any professional tree personnel and firewood cutters.
Final Thought
Hopefully, the review above has made you rethink your top choice when it comes to the design and quality of chainsaws and helped narrow it down to the two above.
With both models being professional-grade with high-quality features, it all comes down to your particular needs. They are both designed for chainsaw users with simple and easy-to-use features.
Ensure that you go for a heavy-duty tool that is durable and will meet your needs.
Here's More: