When it comes to chainsaws, there are a few key things to consider. The size of the machine, the power it has, how easy it is to use, and of course, the price.
In this article, we will be comparing the Ego CS1800 vs CS1804 chainsaw. We'll be looking at their size, power, ease of use, and price.
Ultimately, the decision comes down to what you need and want in a chainsaw.
Ego CS1800 vs CS1804 Comparison chart
And since these two chainsaws are quite similar, it makes sense for us to put them next to each other and see just how they stack up. 
The chart below compares all of the key features of each chainsaw.
Ego CS1800 18-inch chainsaw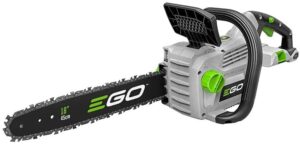 The EGO Power CS1800 is a bar length 18 Inches chainsaw that uses a brushless motor to extend the life of the tools. It has an 11,000 RPM speed and comes with a built-in throttle for precise cuts.
The chain saw has a lightweight design and easy-to-use controls that make it easy to navigate through the cuts. It also has a powerful 56V battery that will provide plenty of power when you need it most, and its ergonomic design makes it easy to handle.
It is perfect for homeowners who are looking for an efficient way to clean cuts into their wood. This chainsaw comes equipped with bright LED headlights that illuminate your work area, making it easier to see what you're doing.
Its lightweight design and easy-to-use controls make it easy to move around the job site, while its brushless motor ensures smooth, clean cuts without any hassle.
Pros
LED light helpful in storm cleanup 
Tool-free chain tensioning 
It comes with metal bucking spikes
Outstanding chain speed and cutting power 
It is an excellent value for money
Cons
It does not come with a battery and charger
Ego CS1804 18-inch chainsaw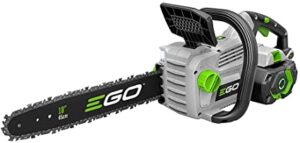 The EGO Power CS1804 Cordless Chainsaw is a great choice for customers who are looking for a chainsaw with a powerful engine.
This chainsaw has an 18-inch cutting capacity and can handle a wide range of tasks, including cutting wood, branches, and logs. The chain is also highly durable, making it suitable for use in challenging conditions.
This chainsaw is great for anyone who wants a fast, easy-to-use chainsaw that is capable of cutting through even the most challenging materials. Its powerful engine and auto tensioning system make it perfect for any user, no matter their experience level.
Additionally, the EGO Power Chainsaw features a built-in chain brake, which allows you to stop the chain quickly in case of an emergency. Plus, its compact design makes it easy to carry and store, so you can take it with you wherever you go.
Pros
No noise, fuss, or fumes
The LED lights illuminate your work area
It is comparably light to gas saws
It is compatible with 14 and 16-inch bars
It comes with an auto chain tensioning system making it easy to keep it right
Cons
Cutting performance does not match gas saws 
Differences between Ego CS1800 and CS1804
The main dissimilarity between the CS1800 and CS1804 is that the CS1804 comes inclusive of the battery and charger while the other does not. There are, however, other notable differences between the two.  
Battery 
As mentioned earlier, the CS1800 is bought as a bare tool, which means that its package does not include a battery and charger. However, it is compatible with all EGO power+ 56v batteries. The CS1804, on the other hand, comes inclusive of a 56V, 5.0Ah battery.
The battery life is contingent on various factors, such as how and what you are cutting. Typically, the 5Ah can be expected to last an hour when cutting light-duty to medium materials. 
Price
Given their enhancement in performance, the CS1800 and CS1803 18-inch come at a reasonably fair price. However, the CS1800 comes as a bare tool, meaning the battery and charger are sold separately.
The difference in price is therefore justified. For the CS1804, the complete kit with a 5A battery and charger will cost you $349. The CS1804 would not be so far off if it included a battery. It is, however, sold at $259. 
Similarities between Ego CS1800 and CS1804
The EGO CS1800 and CS1804 models have more in common than what meets the eye. They come with many similar features and are similar in many other aspects.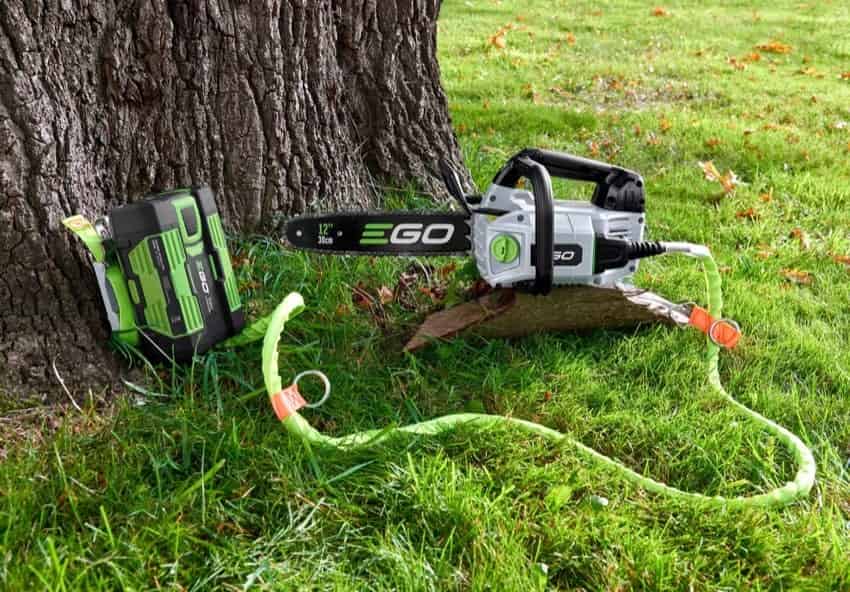 Power and motor
The CS1800 18-inch is an upgrade of the 16-inch and therefore delivers on a performance given its higher bar and chain. It comes with a 56V brushless motor that is designed to rotate at an impressive 11000rpm.
Similarly, the CS1804 features an 18-inch bar with an rpm of 11000. It comes with a brushless motor for excellent performance and battery life. The 11000 rpm is 67% faster than EGO's other 14 and 16-inch cordless chainsaws, and it allows the chain to run at 20m/s at no load. 
Performance 
The aggressive 18-inch bar and chain equipped in both the CS1800 and CS1804 are ideal for taking down branches, tall trees, and large stumps. Moreover, both chainsaws' patented 56V lithium battery technology includes intelligent power, innovative design, and revolutionary cooling technology for supreme performance.
The cutting performance is also up to standards for these battery-powered chainsaws. You can count on them to cut through 12-inch-thick hardwoods like oak and handle other thicker materials.
Ego CS1800's chain speed is outstanding. The 0.050″ chain gauge allows you to work on several sizes of wood with relative ease. This is the same for the CS1804 model. You can count on these chainsaws to give you the best combination of efficient battery and fast cutting. 
Features 
The CS1800 and CS1804 models share some features. The auto tensioning chain system is one of them and works to tighten the chain by simply twisting a dial. You do not need to things apart to set them properly. 
The auto tensioning system is made of metal, to the pleasure of many, with a plastic cover. There are also metal bucking spikes made of metal featuring on both chainsaws. Another feature is the bright LED light located just above the bucking spikes that illuminate your work area, be it dusk or in an emergency with no access to light. They come with two brightness settings.
On top of that, they feature automatic chain lubrication with a transparent oil tank of a capacity of 200ml, not forgetting the kickback brake accompanied with a red indicator that is displayed when engaged. The chain brake is reliable and will stop the chain fast. 
Frequently Asked Questions (FAQs)
Which charger can I use with my batteries?
All the EGO chargers are designed to charge all EGO batteries. A rapid charger will charge any EGO battery faster than the standard charger, but both can work interchangeably. 
What is the warranty on this equipment? 
All the EGO tools are backed by a 5-year limited warranty if purchased from authorized EGO retailers. Moreover, there is a 3-year limited warranty for the EGO Power+ system packs and chargers.
For all other EGO products, chargers, and battery packs that are used for commercial, professional, or industrial use, the warranty period is one year. 
Can I sharpen the chain without replacing it? 
Yes, it is possible to sharpen the chain without replacing it. However, it would be best to refer to the user manual for specific instructions. 
How can I adjust a loose chain? 
These products allow an easy and tool-less chain adjustment thanks to the chain tensioning knob. You can also find further instructions in the user manual. 
Do I have to buy bar and chain oil for this tool? 
Yes, you will be required to buy bar and chain oil for the saws as they are not included in the package. Ensure that you fill the oil tank before you use the tool.
Final Thought
The Ego CS1800 chainsaw is a great choice for the beginner or those on a tight budget.
On the other hand, the CS1804 is a more advanced chainsaw that offers great performance and features for experienced users.
Whether you are a beginner or an experienced chainsaw user, make sure to choose the right one for your needs.
Here's More: