DeWalt table saws are very efficient tools and great additions to any home. However, sometimes they may not be as versatile as we want them to be.
For instance, if you are looking to build a bookshelf or a cabinet in your home, this may not be entirely possible with your DeWalt table saw. You will need to make some dado cuts on the wood to make such furniture, and this will need a dado blade. 
The question that arises is which of the DeWalt table saws are compatible with dado blades. This article will do more than just answer that.
It will outline the DeWalt table saws accept Dado blade as well as the specific types of dado blades suitable for the task at hand. Read on.  
About DeWalt Brand
DeWalt is undeniably a household brand. It is the leading manufacturer of a wide range of industrial power tools and accessories, including table saws. This trusted brand delivers according to its reputation, producing a wide range of saws for different purposes. 
Can Dado Blades be used on a DeWalt Table Saw?
Some tasks may require a dado blade to be used alongside a table saw to achieve success. And thankfully, you can use the blades on some DeWalt table saws. However, it is essential to check with the user manual to know which dado blade to use and whether the DeWalt saw model would accept it. 
It is important to note that dado compatibility is contingent on the saw's arbor length. This means that a 10-inch table saw should be able to accept a dado blade unless its arbor diameter is less than that of the dado blade. If this is the case, it will not be able to give a dado cut.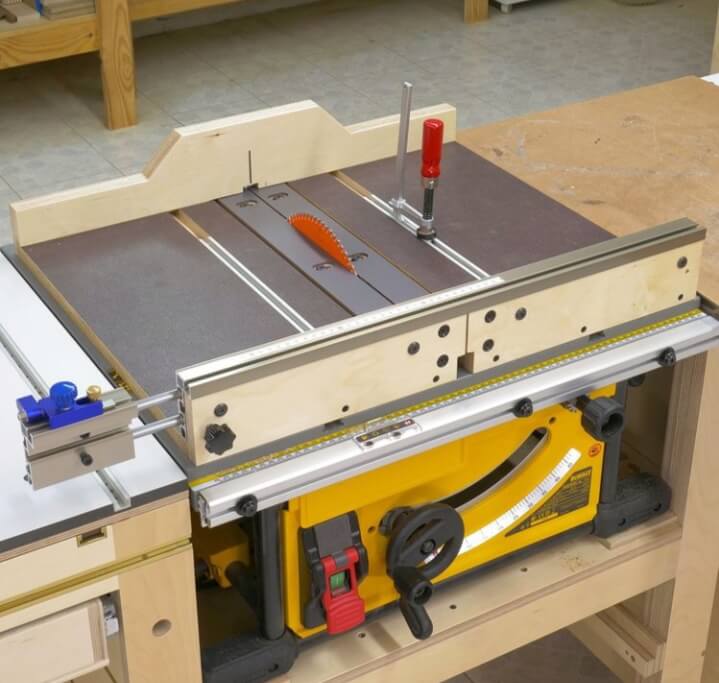 Do All Dewalt Table Saws Accept Dado Blades?
The information above clearly shows that not all the DeWalt table saws can be used with the dado blades. This is because different DeWalt table saws have different arbor hole diameters; hence not all are compatible with dado blades. The wide variety of models by DeWalt has varying specifications and features. 
For example, the models may have 8-inch, 88 1/4-inch, or 10-inch blades, where only the 10-inch blade can be used with a dado stack.
The issue of the arbor length follows that the 10-inch saw has to have a proper arbor, preferably matching that of the dado, for compatibility. Otherwise, in the case of a small arbor, compatibility is far-fetched.
Can you use a dado blade on a Dewalt dwe7485 table saw?
The answer is no – the blade does not fit. Dado blades are designed for use with specific saws, and the dwe7485 is not one of them. If you need to make cuts in a straight line, you'll need to use a different type of blade.
Which DeWalt Table Saws Accept Dado Blade?
There are three main DeWalt table saws with dado capability. These are DeWalt DWE491RS, DeWalt DWE7491RS, and DeWalt DWE7491X. Below is a short review of the above options. 
1. DEWALT DWE7491RS 10-inch table saw review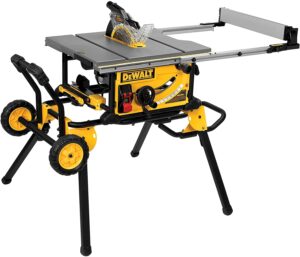 This model is an upgrade of the DeWalt 7490x in terms of size and dado compatibility. It is designed to accommodate an 8-inch dado blade with a width that can max 13/16 of an inch. On top of that, this table saw delivers superb performance by making clean 3.125-inch-deep cuts at 90 degrees. 
When set at 45 degrees, the cuts are 2.25 inches deep. Another impressive feature is its 15Amp motor, complete with a 32 ½-inch rip capacity. With this feature, you can be assured of easy and smooth cuts through any hardwood, shelving, or cabinet materials.  
Moreover, this powerful DeWalt saw provides supreme safety with a heavier build. Since the cuts are not thru-cuts, the blade guard assembly should be removed first before you can cut with it. Another notable feature is the increased rollability which enhances maneuverability. The package is inclusive of all essential accessories needed for operation. 
Pros
Power, concrete
Reciprocating saw included
Extremely portable 
3-year manufacturer warranty
Cons
Miter guide is not of the best quality.
2. DeWalt DWE7491X 10-inch table saw
DeWalt's best idea on portability is expressed in the DWE7491X model. Therefore, if you are looking for a portable option without compromising quality and functionality, this is the table saw to go for. This model comes with a 24-tooth carbide blade yet still shows dado capability with a maximum width of up to 13/16-inch. There is also a DWE7402D1 dado throat plate to boot.
However, keen attention should be taken in that dado blades exceeding 8 inches in diameter should not be used. Just like the DWE7491RS, the blade guard assembly should be removed first before you can cut with it.
This exceptional table saw comes equipped with a 15Amp motor with an impressive 28-inch rip capacity that allows its users to work with bigger shelving. It does a great job in making 2 ¼ and 3 ¼-inch-deep cuts in 45 and 90 degrees, respectively. 
Pros
It is a good value for your money.
Accurate and easy to use
Cons
The miter is not easily stored.
3. DeWalt DW744XRS 10-inch table saw review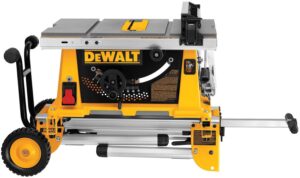 Another power horse at any Jobsite is the DeWalt DW744XRS. This practical and unique table saw is ideal for woodworkers with limited space. It is also a portable option compatible with a maximum of 13/16 of an inch of the dado blade. 
Its functionality is enhanced by its powerful 15Amp motor working at an impressive 4650rpm. This high-torque motor can spin high loads and make cuts as deep as 3 1/8 inches and 2 ¼ inches at 90 and 45 degrees, respectively. The motor has a massive rip capacity of 24 ½ inches, making it ideal for use with wider boards.
On top of that, this model is designed with a Site-Pro Modular Guarding system which enables easy installation and enhances versatility. Together with the tool-free adjustment capability, the arbor mechanism increases efficiency and enables smooth dado cuts. The cherry on top is its soft-start design that is handy in minimizing strain as well as increasing durability. 
When it comes to selecting a dado blade for your table saw, there is a wide range to choose from. The highly recommended blades include Freud SD808, Oshlun SDS-0842, and Mibro Group 416381. 
Pros
Extremely compact and convenient 
Powerful performance for its size and price point
Cons
The body is made of plastic 
It is relatively heavy
Frequently Asked Questions (FAQs)
What is a throat plate? 
The throat plate is the surface on a table saw upon which the blade spins. 
What is the difference between a dado throat plate and a regular blade throat plate? 
The dado throat plate has space sufficient enough to stack a dado blade set. 
Is it possible to dado with a router?
Sometimes routers may be used to make dado cuts during woodworking. This may be possible when used alongside a simple dado jig to guide the router. 
Can any table saw use dado blades?
Not all table saws can use dado blades as some have short arbors. The short arbors are design features and dado blades should not be forced onto these saws. 
Conclusion
Not all the DeWalt table saws have dado capability. Therefore, you need to purchase one according to your needs.
If your tasks and projects require dado cuts, the above models are a sure bet. They are not only functional and efficient but also guarantee smooth and clean cuts to fulfill all your shelving needs.