If you are a DIY enthusiast and love handling wood-related projects around the home, table saws are one of your best companions.
You may have worked with different brands and models with different specifications; you can easily tell them apart and which ones are suitable for the task at hand. One particular feature that varies in table saws is the blade size. 
The most common blade size is 10-inch, but some manufacturers have shrunk this to 8 ¼-inch due to the benefits associated with having a shorter blade.
Nowadays, many workmen prefer the 8 ¼-inch over the 10-inch. However, if you are still torn between the two blade sizes, here is a detailed comparison between the 10-inch and 8 ¼-inch table saws to guide you. 
8 ¼-Inch and 10-inch Blade sizes
The blade size of a table saw is a determinant factor when it comes to its overall functionality. The two main sizes in question are the 10-inch and 8 ¼-inch blades. Each of them has advantages and disadvantages, as discussed below. 
8 ¼-inch table saw
An 8 ¼-inch table saw basically refers to the blade size, which is 8 ¼-inch. Some woodworkers have reported that this size comes with numerous benefits with continuous use. The 8.25-inch blade offers greater rpm as well as delivers exceptional ripping capacity when compared to other blade sizes. 
On top of that, these table saws tend to be more durable and portable given their high manufacture. On the downside, this blade size is limited to making less than 2.5-inch cuts. 
10-inch table saw 
This table saw comes with a blade that is 10 inches in size. 10 inches was the standard blade size due to its availability. The majority of the 10-inch table saws are powered by a 110-power supply giving them more portability. You can easily plug them wherever you need them.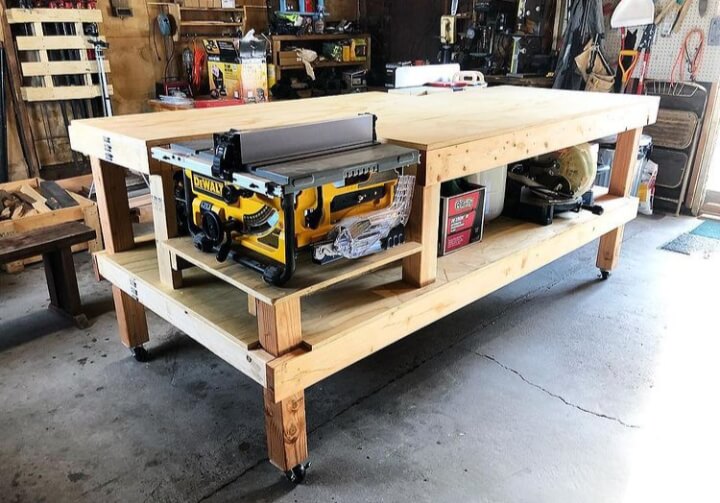 What are the similarities of these two table saws
Though different, the 10-inch and 8 ¼-inch table saws have some notable similar features. For one, both these table saws are available in lightweight and compact sizes, thus enhancing portability. 
Another similarity is that they come with powerful motors guaranteeing superb performance regardless of the nature of the wood; frozen, wet, or hardwood. 
Moreover, safety was a priority in manufacturing the table saws as they are fitted with protective features such as a blade guard for work safety. Lastly, the blade depths for both table saws are adjustable at 45 to 90 degrees. 
8 1/4 vs 10 Inch Table Saws
You can count on both these table saws to deliver superb performance when working with different materials. The main dissimilarity between these table saws is the diameter of the blade. This feature makes them differ in several aspects, such as cutting capacity, dado capability, and RPMs. However, it is no surprise if they have the same number of teeth. Choosing the right one for your needs can be a daunting task. But here are some of the aspects you need to keep in mind before making a purchase.
Cutting capacity
The depth of the cuts depends on the blade's diameter. Blade diameter is measured from one extreme point of the circular surface to the other, with the blade rotating at the center point. This means that the saw will only cut as deep as its radius. However, this is not true. 
Conversely, the 10-inch saw cuts up to 3.5 inches, while the 8 1/4-inch saw cuts a maximum of 2.2 inches deep. Another determinant of cut depths is the blade adjustment, and both saws can rotate from 0 to 45 degrees. The take-home, however, is that the 10-inch table saw makes deeper cuts than its counterpart. 
Rip capacity 
Given their different blade sizes, the 10-inch and 8 ¼-inch table saws have various ripping capacities. For instance, giving actual examples of the DeWalt DW745 and DEW7485 models, the right part of the DW745 blade has a ripping capacity of 20 inches while that of the DWE7485 goes up to 24 ¼ inches. However, both have a 12-inch rip-off on the left side. 
All in all, what is worth noting is that the saw's ripping capacity depends on the price point. More expensive models offer more ripping capacities. 
RPMs of the saw
The Revolutions per Minute of a table saw is indirectly proportional to the blade size. This means the smaller the blade size, the higher the RPM. Smaller blade sizes tend to run at 3000 to 4000 rpm range. However, the rpm can be decreased by increasing the arbor pulley size to 2 1/2- inches. 
This concept explains why the 8.25-inch table saws rotate at higher RPMs than the 10-inch saws. Higher RPMs translate to higher torque levels. The result is seen in the straighter cuts that are made in a short time.  
Dado blade compatibility 
Typically, dado blades are available in 8-inch sizes. Therefore, for a table saw to qualify as dado blade compatible, its size should be more than that of the dado. With that in mind, the 10-inch table saws have dado capability, whereas the 8 ¼-inch saws cannot be used to make dado cuts. 
Cost
Sometimes it always comes down to your budget. Price is a major determining factor when it comes to buying practically anything. Therefore, it is crucial to make a precise cost breakdown for the two models. 
The 8 ¼-inch table saw is relatively new on the market, being a smaller version of its counterpart. Being smaller, it comes at a lesser cost. In most cases, the price point of an 8 ¼-inch table saw is at $300, making it a more affordable option than other models. 
On the other hand, the size of the 10-inch table saw is instrumental. Moreover, these saws are best suited for heavy-duty works and ideal for tough woods, making them a choice for professionals. With this in mind, its price is relatively high, generally around $500 to $600. 
Weight
Many people consider the weight of the saw before purchase. Others prefer the lightweight models for easy portability, while others would go for the heavy-duty models. The 8 ¼-inch table saw is lighter in weight, making it easy to move around. This feature makes it compact and offers its users a hassle-free experience. However, it comes with a downside as it is prone to breakage if too much force is applied. 
On the other hand, the 10-inch saw is often heavy. Carrying it will not be easy for many, and it is also not as compact. However, this is an advantage as it is less prone to damage and can tolerate high amounts of force and tension. It can therefore be utilized for rough use. 
Application 
Given the differences outlined above, it is clear that the 10-inch and 8 ¼-inch table saws may be best suited for different tasks. The 8.25-inch saw is ideal for those who are not going for deeper cuts and prefer a lighter saw for woodcutting. Also, they are recommended for less heavy works. These saws are available in various models to choose from. 
On the other hand, the 10-inch table saw is ideal for greater depths with lower RPMs. Therefore, this is the go-to saw for your heavy-duty work of DIY projects. 
Availability 
The availability of a table saw is another important aspect. You may like a particular model, but it may not be easily available near you. Ensure that you check with nearby stores if you can find the model you are looking for. 
Since the 8 ¼-inch saw was recently inaugurated, locating it isn't easy. The 10-inch types have been in use for the longest time. They are therefore readily available in nearby shops. 
Read This – Which DeWalt Table Saws Accept Dado Blade
The Best 8 ¼-Inch and 10-Inch Table Saws 
Here are some of the best 10-inch and 8 ¼-inch table saws we have in the market. We shall outline some of their unique features and other specifications to narrow down your options. 
1. SKILSAW SPT99T-01 8 ¼-inch table saw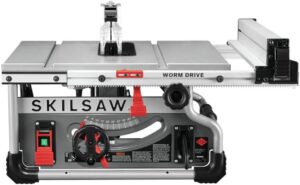 If you are looking for durability and affordability in one table saw, then the SKILSAW SPT99T-01 8 ¼-inch is a sure bet. It performs at 5300 RPMs allowing you to make straighter cuts on every project. Moreover, its operation is easier and quicker with its higher torque than other models. This model is capable of 2 to 5/8-inch depth cuts with a rip capacity of 25 inches to slice up to 3x.
On top of that, this model comes with a rick and pinion system that enables smooth and fast fence adjustments for the type of cut you are looking to make. Its lightweight comes as an advantage. At only 45 pounds, you can conveniently place this equipment on any flat surface with enhanced maneuverability. 
Another impressive feature in this model is the anti-kickback device fitted in the guard system. As with any other equipment, safety is a top priority for many. Thankfully, with this system, safety is guaranteed as well as prevention of possible damage. Moreover, the Dual-field motor allows you to work more efficiently and harder as it can remain cool for a longer time. 
Pros
Affordable and durable 

It provides extra safety
Cons
Relatively lower rip capacity
2. DEWALT DWE7491RS 10-inch table saw
 
The DEWALT DWE7491RS table saw is an excellent example of a heavy-duty, reliable tool and portability in one package. When it comes to the 10-inch blade size category of table saws, this model is the best there are, thanks to its impressive capacity and durability. 
Needless to say, DeWalt is a trusted renowned brand, well-loved by many households. This model is no exception as it comes with high-quality features, with a rip capacity of 32.5 inches and 22 inches to the left side of the blade. You can count on this saw when working on wide boards or breaking down plywood sheets. 
A great addition to this model is its 15-amp power motor that allows cuts as deep as 3.125 inches and 2 ¼ inches at 90 and 45 degrees, respectively- this is the standard for hardwood and pressure-treated lumber. 
On top of that, this model is compatible with dado blades, making it a favorite for DIY enthusiasts. Another outstanding feature is the inbuilt rack and pinion fence system for accurate, smooth, and fast fence adjustments. The 2 ½-inch dust collection port aids in efficient dust extraction. 
Another thing is the included 26 ¼ x 22-inch table which offers optimal material support. The onboard storage system adds convenience by making the Site-pro guard components easily accessible. This model is ideal for heavy-duty projects such as framing bookshelves, deck building, trimming carpenters, and cabinet installers. 
Pros
Extremely portable 

Powerful and concrete 

Reciprocating saw included
Cons
Miter guide is not easily stored
3. DELTA Contractor 36-5100T2 10-inch table saw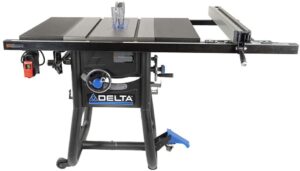 The Contractor model by Delta combines precision and power to give you the best of both worlds. This makes light work of some of the tough jobs you wish to handle. Moreover, it comes with an inbuilt fence and rail system strategically positioned to guide users through precise cuts at all times. This model is available in cast-iron and steel extension wings options. 
On top of that, this model is compatible with dado blades, making it a favorite for DIY enthusiasts. Another outstanding feature is the inbuilt rack and pinion fence system for accurate, smooth, and fast fence adjustments. The 2 ½-inch dust collection port aids in efficient dust extraction. 
Pros
Built for longevity and durability

Precision-promoting features
Cons
Relatively low rip capacity
Frequently Asked Questions (FAQs)
Who should use the 8 ¼-inch table saw?
An 8 1/4-inch table saw is a great choice if you want to be able to do all the things that you can with a larger 10-inch machine, but don't have enough space for it. The smaller machine is lighter and easier to move around. It's more affordable, too. It is not suited for making deeper cuts. 
Who should use the 10-inch table saw?
Whether you are looking for an everyday workhorse or a heavy-duty professional saw, the 10-inch table saw can meet your needs. For most people, it becomes the only saw they will need to purchase for both small and larger projects. They deliver greater depths at lower RPMs. 
Can a 10-inch table saw cut a 4×4?
No. The maximum depth that a standard 10-inch saw can make in one pass is 3-1/4-inch. To achieve a 4×4 cut, higher-end saws with up to 12 inches are recommended.
Can I put an 8 ¼-inch blade on a 10-inch table saw?
Yes, replacing a 10-inch blade with an 8 ¼ one is possible. 
Conclusion 
Both the 10-inch and 8 ¼-inch table saws are ideal for professionals. You can count on them for superb performance as well as reliable safety. When making a purchase, ensure that you consider their differences in dado compatibility, rpm, cut, and rip capacity so that you get one that fits your needs.
You may like our compression on shop Fox W1837 vs grizzly G0771Z