Efco® chainsaws are among the most popular brands globally and for a good reason. These saws are tough, reliable, and easy to use. They have made a name for themselves by being one of the most affordable, high-quality saws on the market.
However, what most chainsaw buyers don't know is, that Efco® is just a brand name for a variety of different saws manufactured by a different companies. 
So, Who Makes Efco Chainsaws?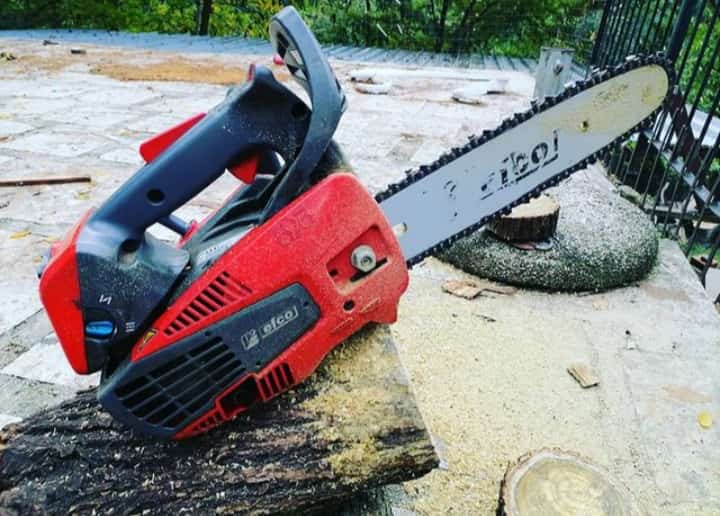 Efco® is a brand name owned by Emak®. Emak® is an Italian company that has been in business since 1950. The company started by manufacturing two-stroke engines for a variety of different applications.
In the 1970s, Emak® began to manufacture chainsaws, and they have been one of the leading chainsaw manufacturers in the world ever since.
Emak® has four production facilities, two in Italy and two in China. The company ships its products to foreign markets. It has a structured sales network in Germany, France, the United Kingdom, Spain, Poland, Ukraine, China, and Brazil.
Emak group is the owner of several other companies and brands in the outdoor power equipment industry, including Oleo-Mac®, Bertolini ®, and Nibbi®, which are all distributed in over one hundred countries. Their products include chainsaws, trimmers, brush cutters, lawnmowers, and various other garden tools.
The company has won numerous accolades for its innovative designs and high-quality manufacturing. It also holds ISO 9001 Quality and ISO 14001 Environmental accreditations. It is a company that is committed to quality and environmental protection.
With its four commercial brands, four production units, and over sixty years of experience, Emak is a leading player in the global market for outdoor power equipment. 
Overall, the Group provides over 250 different models of products to a variety of different markets. The company has a rich history, and it is clear they are here to stay as one of the leading manufacturers of small engines and garden tools in the world.
Are Efco Chainsaws Any Good?
Introduction: Even though Efco is a subsidiary of Emak, the company still manufactures some of the best chainsaws in the market. The fact that they have been in business for over 60 years and have four production units speaks volumes about the quality of their chainsaws. 
Many professionals favor Efco chainsaws for their lightweight, superior cutting performance, and easy handling. In addition, Efco chainsaws are known for their durability and longevity. 
They have a wide range of chainsaws catering to different needs, so whether you're looking for a powerful saw for felling trees or a lightweight one for pruning, you'll find the perfect model for your needs. 
The customer service is excellent, and they have a very user-friendly website where you can find all the information you need about their products. They are also available on social media platforms like Facebook and Twitter, so you can easily reach out to them if you have any questions or concerns. 
The official website also hosts some video tutorials on using and maintaining your chainsaw, which is very handy for first-time users. This allows you to get the most out of your chainsaw and ensures that it has a long life. 
What are the Negatives of Efco Chainsaws?
Efco chainsaws are generally very reliable and well-made. However, like any other product, there are some negatives that you should be aware of. 
Some users have complained that the chainsaw can be difficult to start, especially when it's cold. Others have also mentioned that the chain can come loose quite easily. 
Another thing to keep in mind is that Efco chainsaws are not cheap. However, considering the quality of their products, they are still very reasonably priced. 
Can Efco Chainsaws be Used for Professional Purposes?
Yes, Efco chainsaws are suitable for both home and professional users. Their wide range of chainsaws offers different features and power options to suit your needs.
For example, their top-of-the-line models like the MT 6500i are perfect for felling trees, while the lighter and more compact models like the Dart are ideal for pruning and general garden maintenance. 
If you're a professional user, you'll be glad to know that Efco chainsaws come with a 2-year commercial warranty. This shows the company's confidence in the quality of its products. 
How Easy Are Efco Chainsaws to Maintain?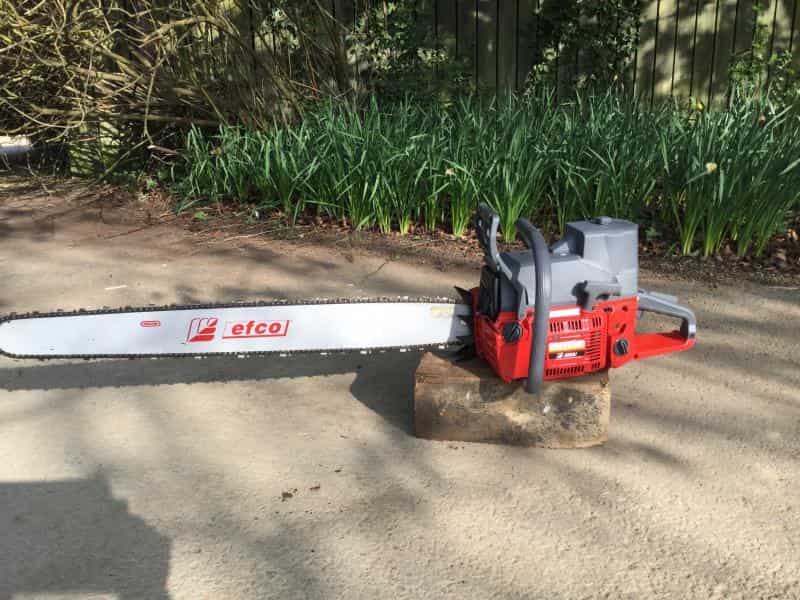 Efco chainsaws are designed for easy maintenance. For example, their 'Duro Tensioning' system means that you don't have to retighten the chain often. Their 'Duro Star' engine oil is also designed to last longer and protect the engine against wear and tear. 
In addition, all Efco chainsaws come with a user manual that includes clear instructions on maintaining your chainsaw properly. Their website also has some helpful video tutorials on chainsaw maintenance. 
Efco has a wide network of authorized service dealers trained to service your chainsaw properly when it comes to servicing. This means that you can rest assured that your chainsaw is in good hands. 
How Much Do Efco Chainsaws Cost?
Efco chainsaws are not the cheapest on the market, but they are still very reasonably priced considering the quality of their products. Their entry-level models start at around $200, while their top-of-the-line models can cost $700. 
Final Thought
Efco is a trusted brand that produces high-quality chainsaws. It's a sub-brand of the larger Emak group, a huge conglomerate with over 60 years of experience in the gardening and outdoor power equipment industry.
Because of this, you can be confident that Efco chainsaws are built to last. Under its name, Efco has produced a wide range of chainsaws catering to different needs.
So whether you're looking for a powerful saw to tackle tough jobs or a lightweight saw for easy handling, Efco has got you covered. 
You might read our articles on can you cut bamboo with a chainsaw and how to fix a pinched chainsaw bar.