When it comes to chainsaws, there are two main types: gas-powered and electric. Each type has its own advantages and disadvantages.
If you're looking for a chainsaw to do light to moderate yard work, then a gas chainsaw is a good option. In this article, we'll compare the Echo CS 2511T vs CS 271T chainsaw.
Echo CS 2511T vs Echo CS 271T
Two of the newest chainsaw options from the Echo brand are the Echo CS 2511T and Echo CS 271T. They offer unique features to deliver superb performance in their recommended areas of use. This article exhaustively reviews the two models to make it easier for you to make a choice. 
Comparison chart 
Besides sharing the same brand, Echo CS 2511T and Echo CS 271T come with numerous similarities. They are both gas-powered and can accommodate the 13-inch bar. However, they have just as many differences. The CS 2511T is also compatible with a 14-inch bar and weighs more than its counterpart. 
Additionally, they slightly differ in fuel and oil capacities. They can be accessorized in the same way with the same parts. 
Echo CS2511T review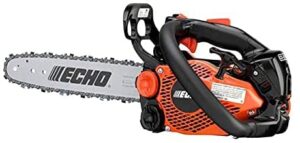 The Echo CS2511T is among the most sought-after Echo models. This machine has a conveniently lightweight design that makes it well suited for a wide range of jobs. 
What's more, it is a light-duty gas-powered chainsaw weighing only 6 pounds. This model is categorized in the top handle range, ideal for professionals and novices alike. 
The CS 2511T model has been warmly embraced into the market and has become a favorite for many. If a small, lightweight chainsaw is your ideal, then look no further. 
Echo CS2511T Specifications 
Echo CS 2511T chainsaw is a top handle chainsaw ideal for pruning and limbing. This 25cc saw is the lightest gas chainsaw with a dry weight of 6 pounds. 
This small and compact design enhances its maneuverability for an enhanced working condition. This chainsaw comes with a 3/8-inch pitch low-profile chain with extra-long cutters for improved cutting performance. 
It comes with a 1-year commercial warranty or 5-year consumer warranty. However, the package does not include a bar and chain. This model can work with either 12 or 14-inch bar sizes. 
For gas-powered chainsaws, the engines are measured in cubic centimeters, ccs. Higher powered engines have a higher cc value. However, the more power an engine has, the heavier the machine will be. The CSS2511T has a 25cc rating, comparatively low-powered for a top handle chainsaw. 
The engine displacement is 25cc. It is still equal to the task when it comes to working on trees. Therefore, it delivers incredible horsepower from a compact and easy maneuverable body. 
ECHO CS 2511T Features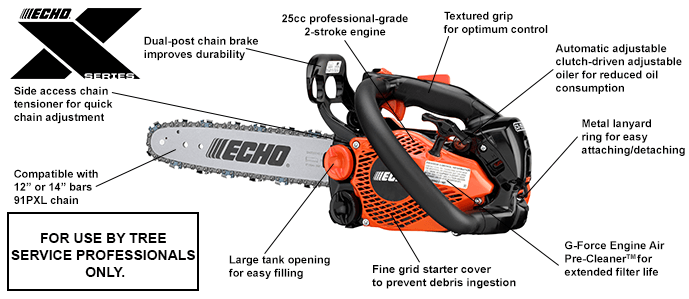 The CS2511T comes with many unique features, as outlined below. 
Top-mounted bar oiler: In the manufacture of the CS2511, Echo innovated the new top-mounted bar oiler. Most of the chainsaws have this feature on the base of the saw. The top mounting makes it easier to access hence enhanced ease of use.
Moreover, it helps prevent clogging of the oil adjustment screw. The top-mounted bar oiler makes it easier to adjust the flow rate. It will only separate when the chain moves, thus saving oil and preventing it from collecting under the saw during idling. 
Textured grip: This chainsaw was designed with your comfort in mind. This can be seen from the textured grip and improved ergonomics to reduce user fatigue and enhance the overall user experience. The textured grip also goes a long way in improving control. 
Side-access chain tensioner: Ease of use has been enhanced by this feature in that you can easily adjust the tension of the chain. The positioning access is easier to use and more convenient. 
Spring-assist starter: The spring-assisted starter reduces the effort required to start the saw. This feature reduces user fatigue and makes the machine easier to use. 
Dual-post chain brake: This model features a dual-post chain brake fitted to increase the durability of the machine. It is made of high-quality materials as well.
Other features include the fine grid starter that aids in preventing ingestion of debris, increasing machine life in the long run. The G-Force engine air pre-cleaner goes a long way in extending the filter life.
There is also the clutch-driven adjustable oiler and choke with automatic fast idle for easy starting. A safety tip kick guard is sold separately as an accessory for added protection. 
Portability: As mentioned earlier, the CS2511T is the lightest top handle chainsaw. For use in a wooden area, it is most recommended, thanks to its easy maneuverability. It is also conveniently lightweight for reduced fatigue. 
Accessories 
There are several accessories that can be used with the Echo CS 2511T. These include a complete chainsaw safety gear, bumper spike, files, handles, kits, a small chainsaw case, bar, and chain oil. They are handy in making light of the tasks at hand while maintaining the operator's safety. 
Applications 
Functionality meets versatility with the CS2511T. This gas-powered chainsaw is powerful enough for various tasks. If you are planning to limb larger branches in a wooded area, this is the chainsaw to go for. 
Its features are tailored for professional foresters and arborists. Thanks to its lightweight design, this chainsaw is easy to use for arboreal work or have it in the truck. 
Pros
Durable and powerful 
Simple to use 
It is easy to plug and replace the filter 
It comes with anti-vibration handles
This chainsaw is conveniently lightweight
Cons
The chain brake height is lower than other Echo brand chainsaws.
Echo CS 271T review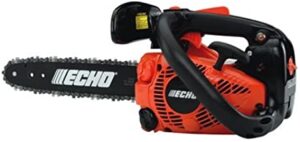 The CS271T is also another gas-powered chainsaw by the Echo brand. Just like its counterpart, it also makes a smart option for anyone working on a wooded area and needs a powerful chainsaw for the tasks at hand.
This chainsaw is also described as a lightweight saw with incredible throttle response and torque. This feature makes it stand out from its competitors.
It accommodates the 12-inch bar and chain. It is lightweight enough to make for easier work overhead hence ideal for light climbing tasks. 
Echo CS 271T Specifications
The CS271T chainsaw is conveniently easy to use and specially designed to meet your needs. It comes with a 26.9cc engine that produces sufficient steady power with an engine displacement of 1.64 cu in. Moreover, it is also in the top handle chainsaw category. 
This chainsaw only accommodates the 12-inch bar and is gas-powered. With a weight of 11lbs, it is slightly heavier than the CS2511T. It comes with a digital ignition system and a butterfly-valve diaphragm carburetor with a purge pump. 
The plastic handle has an ergonomic design for operator comfort and reduced fatigue. This product is backed by a 5-year consumer warranty and a 1-year commercial warranty. 
Echo CS271T Features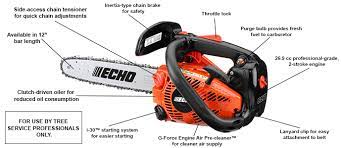 Professional-grade engine: The Echo CS271T comes equipped with a 26.9cc professional-grade 2-stroke engine that ensures outstanding performance. It is made of durable materials for guaranteed superb performance and steady power for any task you may be working on. 
Inertia chain brake: The inertia-activated chain brake goes a long way in enhancing the safety of the operator. It works to stop the chain in a fraction of a second, reducing instances of kickback. This, in turn, reduces the risk of an injury. 
i-30 TM starting system: This gas-powered chainsaw comes incorporated with a unique i-30TM starting system that makes it easy to start, reducing the effort applied and, overall, enhancing the user experience. 
Vibration reduction system: This chainsaw also incorporates a vibration-reduction system that guarantees a quiet operation. This feature ensures operator comfort and safety.  
Automatic clutch-driven oiler: The automatic clutch-driven oiler is a handy feature that significantly reduces oil consumption. In the long run, you get to save fuel costs. 
Rear-mounted, tool-less air filter cover: The air filter cover is rear-mounted for easier access. Moreover, it has a tool-less design for easy operation. 
Side access chain tensioner: The chain tensioner is handy in allowing the operator to adjust the chain tension depending on the task at hand. Its positioning makes it easier to make these chain adjustments. 
G-Force engine air pre-cleaner: This feature is instrumental in reducing air filter maintenance and prolonging the life of the engine. It prevents dust particles and larger debris from reaching the engine. 
Accessories 
Several accessories can be used alongside this chainsaw for enhanced ease of use and functionality. These include a scabbard, a chainsaw case, the 12-inch A4CD guide bar, bumper spike, bar, chain oil, chainsaw safety gear, files, handles, and kits. 
Applications 
This is the chainsaw to go for if you are handling bigger jobs. It is well suited for use in a wooded area. It is also ideal for residential use, lightweight climbing, and in-tree use.  
Pros
It is relatively less expensive 
It can be used for a wide range of applications 
This chainsaw is feature-packed for ease of use 
It comes with safety features 
It is lightweight yet powerful 
Final Thought
In conclusion, the Echo CS 2511T is a better chainsaw for the average homeowner because it is easier to start, has a longer bar, and is more powerful.
If you are looking for a chainsaw that is more powerful and has a longer bar, then the Echo CS 271T is the better option.
You may also like our comparisons on Echo CS 490 vs Echo CS 590 and Ego CS1800 vs CS1804.