It is no doubt that Echo chainsaws are built to tackle the toughest and most rigorous jobs tree workers have to throw at them. This can be confirmed by previous users, both professionals and novices alike.
They have a wide range of models to suit various light-duty and heavy-duty needs. We have come up with an exhaustive comparative review on two of their top-selling products, Echo 303T vs 355T, to help you choose. 
Echo 303T vs Echo 355T: which chainsaw is better?
Many people are faced with a dilemma when the 303T and 355T chainsaw models are placed in front of them. And indeed, the two share several features and are almost similar in build.
But if you need a closer look at each of these products, this is the article for you. To start you off is a comparison chart with the description of the two models and what you should consider when making a purchase. 
Comparison Chart 
Though the Echo 303T and Echo 355T are from the same brand, they are not cut from the same cloth. For one, when it comes to guiding bar length, the 303T is compatible with a 12 or 14-inch bar, whereas 355T is compatible with a 14 or 16-inch.
They are both gas-powered, albeit with slightly differing power outputs. Echo 355T is also relatively heavier. Both models feature an ergonomic design among other convenience features. 
Echo 303T Review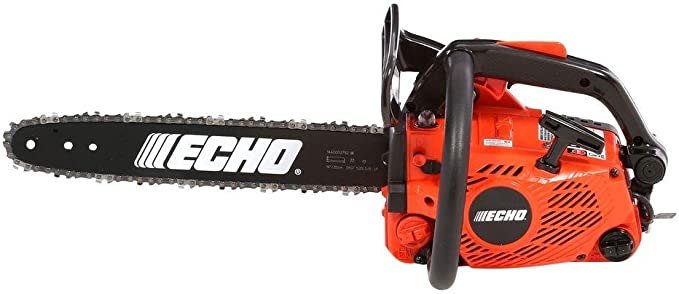 The 303T chainsaw model by Echo is a great purchase. This chainsaw with a 14-inch bar is a favorite among demanding users as well as professional arborists.
It is a top handle chainsaw with an engine displacement of 30.1cc. On top of that, it is the go-to chainsaw for taking down whole trees or pruning limbs, among other heavy-duty tasks. 
Like every other Echo chainsaw, the 303T provides a long, trouble-free performance. Its superior quality starts with its professional-grade 2-stroke engine that provides adequate power for the task at hand.
Moreover, it is backed by a 1-year commercial warranty and a 5-year consumer warranty. Its price point is around $389.99.
Echo 303T Specs
Echo 303T is fitted with a high-quality 2-stroke engine and an advanced ignition system. It has an engine displacement of 30.1cc. and accommodates bar lengths of 12 and 14 inches. Also, it comes with a butterfly-valve diaphragm carburetor and an automatic oiling system. 
The proven engine has been modified to produce increased power. This model has a proven design with increased power based on Echo's most popular top handle chainsaws. It is also conveniently lightweight with increased maneuverability. 
Echo 303T Features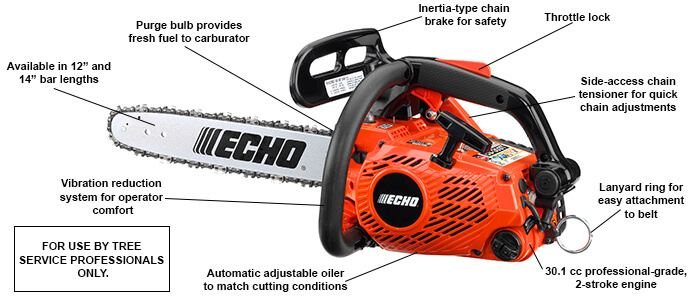 Clutch-driven automatic adjustable oiler: The clutch-driven automatic oiler is a handy feature as it significantly reduces oil consumption. Therefore, you get to save on fuel costs in the long run. You can conveniently adjust the oiler to suit different cutting conditions. 
Ergonomic design: Echo 303T comes with great ergonomics for user comfort. It features a contoured handle shape for a better grip and control. The palm rests provide great leverage while supporting the operator's hand. Moreover, the handle angle provides a natural wrist position to reduce wrist fatigue while cutting. 
Advanced ignition system: This model is an upgrade from its predecessors, and it can be seen by the incorporated advanced ignition system. This feature is handy in ensuring fast starts, whether on the ground or in a bucket or tree. 
Extended top handle: This chainsaw comes with an extended top handle to increase maneuverability and for greater reach. This way, you can have better control of the machine. 
Side access chain tensioner: The chain tensioner feature enables quick and easy adjustments to the chain tension. The side access comes as an advantage for easy access. 
Vibration reduction system: The incorporated vibration reduction system goes a long way in enhancing operator comfort. Thanks to the quiet operation, the working conditions become more favorable and safer for the operator. 
Reduced-effort starting system: Starting the machine has never been made easier thanks to the reduced-effort starting system of the 303T model. This easy starting ability allows its operator to start the machine with minimal effort wherever it is up on a tree or the ground. 
Other features include the chain brake windows that allow for better visibility when cutting, rubber isolation mounts that greatly reduce vibration distributed to the user's hand, a metal lanyard ring that makes it easy to attach and detach, and a purge pump for easy starting. 
Accessories 
Several accessories can be used alongside the 303T for enhanced functionality and safety. They include chainsaw safety gear complete with boots, helmet, gloves, a sheath, bar oil, chain oil, files, handles, kits, and a small chainsaw case. 
Applications 
The 303T model has a versatile design. It can be used for various patio, lawn, or garden purposes. Moreover, whether it is taking down a whole tree, pruning limbs, or cutting firewood, this is the chainsaw to use. 
If you are looking for a chainsaw that is easy to start, runs smoothly, and offers years of reliable performance for a wide range of tasks, the 303T model is the right fit. With its proven design, it is a top choice for professional arborists. 
Pros
It comes with a professional-grade 2-stroke engine for outstanding performance. 
It is durable and well-balanced. 
It features an extended handle for greater reach, control, and maneuverability. 
It is easy to start and handle 
Cons
It is slightly less powerful compared to its competitors.
Echo 355T Chainsaw Review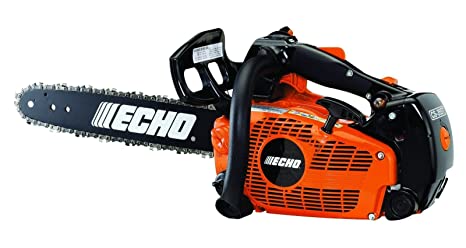 Echo 355T is one of Echo's most powerful top handle chainsaws. Functionality meets convenience with the 355T model.  It is available in 14 and 16-inch bar lengths.
It has a lightweight design that enhances its maneuverability in its area of use. The durability of this model will help you to get through the toughest of jobs. This machine is backed by a full five-year consumer warranty and comes at a price point of $349.99. 
Echo 355T Specs 
The 355T comes with a powerful 35.8cc 2-stroke engine in a compact design. On top of that, this model comes with improved features offering higher torque, larger engine displacement, and better balance. All these come with a lightweight design to boot. What more could you ask for in a chainsaw?
Besides that, the engine produces adequate power to the 14-inch bar and chain. You also get to enjoy outstanding control and superior balance unmatched by any of its competitors. This makes it a very comfortable chainsaw to use with an enhanced working experience. 
These features do not compromise the performance as it still has the power to perform the required task.
Echo 355T Features 
Vibration reduction technology: This chainsaw employs the latest technology in its manufacture. This is seen in the incorporation of vibration reduction technology to make it a comfortable saw, reduce vibration, and overall quiet operation. This feature greatly enhances the user experience. 
Ergonomic design: This chainsaw was designed with your comfort in mind, given its ergonomic design. It features a contoured handle with an anatomic design shaped to fit your hand to reduce fatigue. Moreover, the handle angle is such that it provides a natural position while cutting, so you do not strain much. There are also palm rests that support your hand as well as provide leverage. 
Dual post chain brake handle: This model comes with a dual post chain brake handle, made with superior quality materials that increase the durability of the machine. 
Heavy-duty filter system: This filter system goes a long way in extending engine life as well as maintenance intervals. It keeps dust particles and larger debris from reaching the engine. 
Easy starting system: This chainsaw offers unparalleled convenience and ease of use. It incorporates a reduced-effort starting system that facilitates easy start-ups. 
Automatic adjustable clutch-driven oiler: The automatic adjustable clutch-driven oiler conveniently allows you to adjust the oiler to suit different cutting conditions. Besides that, this feature helps to reduce the overall oil consumption, so you get to cut down on fuel costs. 
Accessories 
The 355T can be accessorized using a number of parts to make work easier and protect the operator. These features include a complete chainsaw safety gear, bar oil, chain oil, a small chainsaw case, sheath, files, handles, and kits. 
Applications 
The Echo 355T chainsaw is especially suited for the professional arborist, utility company, or landscaper. It is one of the more powerful products in the Echo line and is easy to start whether in the tree or on the ground. It is also ideal for use with canopy work. This major workhorse is dependable and lightweight enough for difficult jobs. 
Pros
It has been redesigned for increased power, reduced emissions, and fuel efficiency. 
This model has an ergonomic design for increased operator comfort and safety. 
It comes with a reduced-effort stating system for easy starting 
Cons
This model is on the expensive side.
Final Thought
Top handle chainsaws are a great choice if you are looking for a powerful saw with lightweight and easy maneuverability. Both the Echo 303T and 355T are well balanced, lightweight, and start easily, making them a good buy.
They have few dissimilarities, such as the engine displacement, making them not very far apart. You can now make a more informed decision based on your needs and budget. 
You might also read our comparison on Worx wg303 1 vs Worx wg304 1 and Stihl MS170 vs Husqvarna 120.